Japanese manufacturers produce some of the most reliable vehicles, including top-of-the-line cars like Honda and Toyota. The Nissan brand has been producing vehicles since 1914, originally under the name Datsun. But are Nissans reliable, and how do they compare to their Japanese cousins?
Nissans are considered by most to be very reliable vehicles. While they may fall below Toyota and Honda in the ratings, most models rank better than average for reliability and safety. Nissan's newer, redesigned models rank especially well overall.
Read on to learn more about how reliable Nissan's are, the best and worst models of Nissan's offerings, and whether a Nissan is a good car.
Are Nissans Reliable? [Nissan Reliability According to Rankings]
Reliability Rating According to Repair Pal
So, how reliable are Nissans? The brand gets above-average rankings on most reporting. RepairPal gives the Nissan a reliability rating of 4 out of 5, ranking it 9 out of 32. Those numbers sound fairly good when you consider this rating is based on an average across 345 models.
One of the most reliable brands on the market, Toyota scored an 8 out of 32, coming in only one spot higher than the Nissan.
Nissan Reliability According to Consumer Reports
Consumer Reports ranked Nissan 13th out of 26 brands. The Nissan brand earned an overall score of 51 out of 100.
Every model in the Nissan line scored at least an average reliability rating, while several models received an above-average rating, including:
Altima,
Maxima, and
Nissan Altima.
These ratings come from reliability data provided by customers on reliability surveys. This includes over 329,000 vehicles manufactured between 2000 to 2020.
Average Repair Cost
The average repair cost for Nissan models is $500 per year annually. The average across all models is $652. These averages are based on both regular maintenance and unscheduled servicing. So even when a Nissan breaks down and needs repairs, the cost won't break the bank.
According to the results, Nissan requires 0.3 visits to a repair shop for unscheduled repairs every year. The average is 0.4 across all models.
13% Chance of a Severe Repair
The chance of one of those visits requiring repair for an issue considered severe is 13%, compared to 12% across all models. On top of that, Nissan has won eight dependability awards from J.D. Power over the last decade.
How to Change a Nissan Key Fob Battery
Are Nissans Safe [Nissan Reliability – Crash Test Results]
Nissans perform very well on crash tests, and all of their vehicles receive a rating between 4 and 5 stars from the National Highway Traffic Safety Administration (NHTSA). These tests measure how the vehicle holds up during crash tests, including front, rear, and side-impact collisions.
These top safety ratings make Nissan a popular choice for families. The Nissan Altima, Rogue, and Maxima earned the highest grade in every test performed. So, Nissans are both safe and reliable.
Life Expectancy [Nissan Reliability and Life Expectancy]
Can Easily Last Between 200,000 and 300,000 Miles
Nissans are known to last a very long time. On average, they last around 150,000 miles, but they can easily last between 200,000 and 300,000 miles with the proper service and maintenance. Adhering to a regular maintenance schedule will help to ensure they last as long as possible.
Ranked 10th Out of 18 in 2020 for Longevity
According to Business Insider, Nissans ranked 10th out of 18 in 2020 for longevity among car brands. On average, 0.4% of Nissan's still on the road had hit 200,000 miles. And the good news is that even Nissans with a higher number on the odometer retain their value.
Average Value Retention
CarEdge ranks the value retention of Nissans as average at the 3, 5-, and 7-year marks. Moreover, the 2019 Nissan models hold their value the best, as they retain over 70% of their value. Lastly, Car Edge ranked Nissan 5th out of 19 brands with the lowest ten-year maintenance costs.
Common Problems [Nissan Reliability – Common Problems]
Even though Nissan is considered above average compared to other carmakers regarding their reliability and dependability, the brand has had a few issues over the years with faulty features.
Perhaps these problems keep Nissan from ranking higher than its competitors. Let's look at some of the common problems Nissan owners have reported:
1. Faulty CVT Transmissions
Perhaps the biggest issue occurred when Nissan came out with their new Continuously Variable Transmission (CVT). It was supposed to revolutionize the shifting experience for drivers, but it wasn't long before the complaints started rolling in.
People reported issues ranging from shaking and jerking to leaks and complete loss of power. Nissan used the CVT transmission from 2012-to 2018.
2. Oil and Brake Fluid Leaks
In 2011, Nissan recalled around 15,000 vehicles due to oil leaks. The issue mainly affected vehicles in Nissan's luxury line.
Faulty bolts likely caused the issue in the filter, which tended to break easily. In 2019, the brand had to recall around 400,000 vehicles because of brake fluid leaks. The issue caused brake systems to fail and included a risk of fire.
3. Faulty Airbags
Numerous companies were affected by faulty Takata airbags installed on vehicles between 2002 and 2015. A design flaw was found to cause the airbags to explode and cause serious injury. Nissan recalled all the vehicles in their line affected by these airbags.
4. Faulty Hood Latch
Nissan recalled over one million vehicles with a faulty hood latch. The issue caused the hood latch to fail and the hood to fly open while driving. Most of the affected vehicles were Nissan Altimas manufactured between 2013 and 2018. Nissan recalled just under two million vehicles for repair.
5. Faulty Sunroofs
Sometimes quality is sacrificed in the name of progress. This seems to be why some Nissan models have faulty sunroofs that may explode for no reason.
The issue mostly affects vehicles with a panoramic sunroof due to the method used to treat the glass. Nissan is not the only company to experience this issue.
6. AEB Braking Systems
Another newer technology that makes the driving experience easier is the Autonomous emergency braking system (AEB). This feature detects collisions before they happen through sensors, allowing the vehicle to brake automatically.
But some Nissan owners report issues with the technology causing vehicles to brake suddenly for no reason.
7. Excessive Rust
Between 2005 and 2008, Nissan Navara owners reported excessive rust build-up on their pickup truck models, even when not exposed to conditions that would accelerate normal rust build-up.
Even a few vehicles broke completely due to rust underneath the body. The third-generation Altima's had a similar issue, but the company has since corrected this design flaw.
8. Faulty Backup Cameras
In 2019, Nissan recalled over one million vehicles due to a safety issue with the backup camera on numerous models. The issue was related to a flaw in the system that allowed users to switch off the backup display, which violated federal safety standards.
Again, are Nissans reliable? Repairpal.com gave Nissan a reliability rating of 4 out of 5, placing it in 9th place out of 32 car brands. Note that this rating is based on the average reliability of 254 car models.
Most Reliable Nissan Models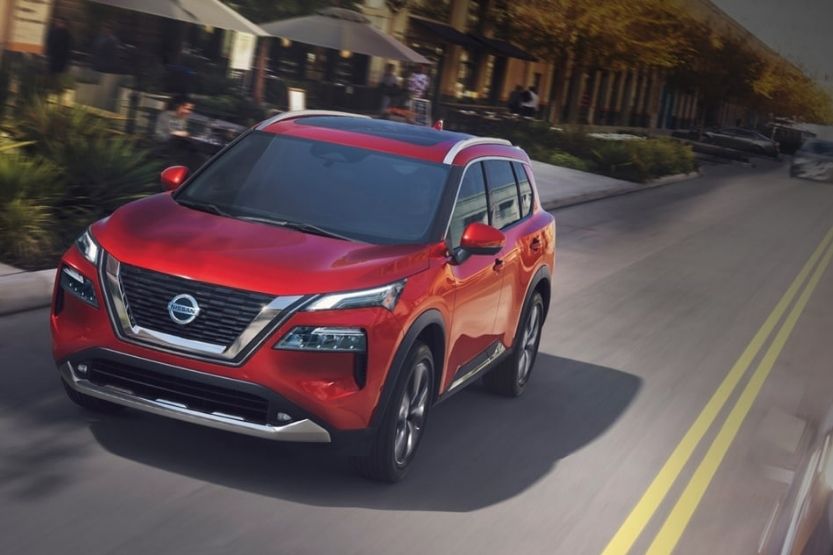 1. Nissan Maxima
The Maxima scores 79 based on Consumer Reports and an 81 on the road test alone. This model ranks high for predicted reliability but gets a low score for predicted customer satisfaction, only two out of five.
2. Nissan Rogue
Nissan's highest-ranked compact SUV, the Rogue, was one of the top ten bestselling vehicles in 2021. It comes packed with safety features, including Advanced Driver Assist systems and a hybrid powertrain that makes it exceptionally fuel-efficient for an SUV.
3. Nissan Altima
Redesigned in 2019, the Altima is one of the most popular Nissan models due to its sleek appearance, powerful V.C. Turbo engine, and state-of-the-art driver-assist technology.
Do a little research, and you may find a few complaints from drivers about the Nissan Altima. Still, one needs to consider that the manufacturer, in their redesigns, has rectified the majority of those issues.
4. Nissan Pathfinder
The Pathfinder is a midsized SUV with a powerful engine, a V6 powertrain, and a 6,000-pound towing capacity. It has enough room for eight passengers and got an upgrade for 2022. While it has traded some of its off-road capacity for comfort, it still offers plenty of options.
5. Nissan Murano
This model gets good gas mileage for a mid-sized SUV at 20 miles per gallon in the city and 28 on the highway. The Murano gets an overall score of 81 based on Consumer Reports, making it one of Nissan's most reliable vehicles.
The Murano has a 3.5-liter V6 and 260 horsepower, and the suspension delivers a smooth, comfortable ride for passengers.
6. Nissan Sentra
One of Nissan's most popular models, the Sentra is a great sedan designed with comfort and upgraded features. It has a slew of safety features that make it a smart choice for families. This model scores well on reliability and safety ratings. It is the 25th best-selling vehicle in the United States.
Least Reliable Nissan Models
1. 2007 Nissan Sentra Se-R
In 1991, Nissan introduced the Sentra Se-R as a sports car with an affordable price tag for the average buyer. And although the Se-R had the power to back up its claims, the inclusion of the cursed CVT transmission from 2007-to 2012 killed the reputation this model had gained over the years.
2. 2017 Nissan Altima
Although the redesigned 2019 version of the Altima makes the best-of list, the 2017 model might be why Nissan decided to revamp the design of this popular vehicle.
The 2017 Nissan Altima scored just above average on Consumer Reports but received a 1 out of 5 for common problems that caused a need for frequent and pricey repairs.
3. Nissan Cube
Like most vehicles introduced with this body style, the hype around the cube was short-lived. While very popular in the Japanese market, drivers from the U.S. did not embrace the boxy body style, despite any positives the Cube had to offer.
4. Nissan Murano Cabriolet
Conceptualized as Nissan's version of a convertible truck, the Murano Cabriolet didn't hold up to similar offerings from its competitors like Jeep and Suzuki.
It was a great idea but poorly executed, and people didn't care for the vehicle's look. It also had problems with a shaky front end and a convertible top that didn't hold up.
5. Nissan Juke
The Nissan Juke has only earned to accolade of being the most joked about the model from the entire Nissan line. The body style was unpopular, and it lacked any performance value to make up for it.
In addition to its odd appearance, the Juke accumulated a long list of consumer complaints, ranging from faulty electrical systems to a front-end suspension system that fell apart.
6. Nissan Armada
This 2021 model didn't score well on Consumer Reports, with only 55 out of 100 ratings. To top it off, the reliability rating was only 2 out of 5.
It has terrible fuel economy, even for an SUV, and drivers don't care for the stiffness and bumpiness of the vehicle while driving. This Armada didn't get the high-tech upgrades and safety features it deserved for a car produced last year.
7. Nissan Quest
Considered to be the worst of Nissan's offerings and no longer in production because of it, the Nissan Quest was a collaboration between Nissan and Ford. It was rebranded as the Mercury Villager.
The oversized, oddly shaped vehicle received terrible safety ratings and proved to be exceptionally unreliable, experiencing numerous recalls during its run.
Frequently Asked Questions
Are Nissan's Electric Vehicles Reliable?
The Leaf is Nissan's version of the electric vehicle. It remains one of the most well-known electric vehicles on the market today.
Also, the Nissan Leaf is the number two top-selling electric car globally, second only to the Tesla. And although it lacks some of the distance and power of its competitors, it remains the most affordable and dependable electric vehicle in production today.
Are Nissans Easy to Repair?
Nissans are easy to repair because they don't require specially trained technicians when they need servicing, and the parts for the vehicles are widely available and inexpensive. The average cost of scheduled and unscheduled maintenance for vehicles in the Nissan brand is $500 annually.
Are Nissans a Good Value?
Nissans maintain their value more than many other manufacturers out there. Not only do they last a long time on the road, but they hold their value even after having a lot of miles on the odometer.
Most Nissan models are intended for use by average consumers and are designed to provide safe, dependable, and affordable vehicles for everybody.
How Much Do Used Nissans Sell For?
The used Nissan's average price varies depending on the model, the age and mileage of the vehicle, and how well you maintain it.
A used Nissan from the last ten years will range between $12,000 and $25,000. SUVs, trucks, and more powerful sports models will average between $25,000 and $35,000.
Why Are Nissans Considered Reliable?
Considered Some of the Most Reliable Cars on the Market
So, Is Nissan a reliable brand? Overall, the Nissans are considered some of the most reliable cars on the market, and they are also one of the most popular and highly sought-after car brands.
Japanese manufacturers are well known for producing reliable, safe, and affordable brands. Nissan makes the list of the top three brands in this country, just behind Toyota and Honda.
Consistent Ratings
Reliability ratings for the Nissan brand consistently land in the top half of the spectrum, meaning most of their vehicles are considered to have above-average reliability. Nissans are inexpensive to service and maintain.
Availability of Parts
You don't need a specially trained mechanic to work on them, and the parts are easy to source and pretty inexpensive. If your vehicle does need parts or service, you won't have to wait for weeks to get the part you need.
High Safety Standards and Performance
The high safety standards and performance is why people consider Nissan a good car. All the models in the Nissan lineup feature advanced safety features and driver-assist capabilities like:
Forward-collision warning
Blindspot
Pedestrian detection
The advanced automatic emergency braking system
Nissans perform well on crash tests, and some models even earn top scores.
In Conclusion – Nissan Reliability Explained
Nissan is also a competitive brand regarding its consumer-friendly features, like roomy interiors, high-tech options for drivers, and performance and drivability. The only area Nissan seems to struggle with is producing attractive models and pushing the envelope on appearance.
The brand seems more focused on manufacturing vehicles that provide average consumers with safe, reliable, and dependable vehicles that maintain their value over the years and last a long time.
The Nissan brand continues to redevelop itself, and just in the last ten years has come out with redesigned offerings of some of its most popular models.
They continue to reinvent themselves by focusing on options for technology and convenience and producing vehicles that are more exciting to the eye.
More importantly, Nissan has maintained their reputation for safety and dependability while remaining competitively priced and affordable for drivers to purchase and maintain.
Read next:
Where Is Nissan Made? [Plus Who Makes It]
Are Nissans Long Lasting Cars?
Are Nissan Altimas Good Cars? [Nissan Altima Reliability]