Arizonian Silver Edition III tires are worth mentioning when it comes to choosing budget-friendly, all-season tires. If you're searching for information regarding these tires, you came to the right place. In this article, I'll give an Arizonian Silver Edition III review and explain the pros and cons of these tires.
What are Arizonian tires? Arizonian tires are affordable tires designed for all-season touring, with its durable tread life and all season-traction. Its lateral grooves and dozens of zigzag sipes help reduce noise and provide stability to the car. You can enjoy a comfortable and quiet ride. You can purchase this Arizonian tire edition from Discount Tires.
Read on to learn more about the Arizonian Silver Edition III tire and its specifications.
Arizonian Silver Edition III Tires
The Arizonian Silver Edition III is a car tire from the Cooper Tire Family offered exclusively via Discount Tire. It's an all-season tire that comes in various sizes from 14 to 17 inches. Cooper designed the Arizonian tire to fit different cars, from minivans to sedans to crossovers and other family cars. These tires are also budget-friendly.
Cooper Tires makes the Arizonian Silver Edition III tires, while Discount Tire markets them, so if you're planning to buy a new set of tires, head on over to Discount Tires and select the right tire size for your vehicle.
The Silver Edition III tires are significant upgrades to the previous tires. These upgrades provide high performance, quality materials, and safety features that any driver would wish for.
Besides being cheaper than other tires, the Silver Edition could provide the safety features you want from your tires.
Pros of Arizonian Silver Edition III
Before purchasing your tire, get to know first its features and advantages. Find out if it's suitable for your car and if the tires will serve the purpose.
1. All-Season Traction for Wet or Dry Roads
If you're planning to travel all year round, the Arizonian Silver Edition III tire is an outstanding option. The tire has stability and excellent traction, whether on wet or dry roads. So, a little snow and a lot of sunshine won't prevent you from traveling. You would certainly enjoy a relaxing trip with these tires.
2. Superb Tread Life
The symmetric tread design lasts long and provides the tire with reliable all-season traction, easier maneuvering mechanism, and more responsive steering control.
During the wet season, the compound lateral grooves around the tread and the four circumferential grooves decrease the risk of hydroplaning, help drive away rainwater, and increase wet traction.
Also, dozens of zigzag sipes on the tread enhance the wheel's grip on ice and snow while increasing the tire's traction on wet roads.
3. Seamless Comfortable Ride
It's the quietest and smoothest tire in its category. The advanced optimized tread profile reduces noise on any pavement while providing a comfortable and quiet ride.
The tire's center-rib design would help you quickly control the steering wheel, brake smoothly, and maneuver accelerations efficiently. Whether you're on a highway or within city limits, it would be a breeze driving through the roads, as your tires have a good grip, are stable, and are easy to handle.
4. Noise-free Ride
You will enjoy a noise-free, comfortable ride as the Arizonian tires have features that cancel road noise. This is due to the smaller serpentine blocks and tread profile. The grooves' design provides a way to eliminate water, ice, or snow effectively.
5. Cost-effective Fuel Consumption
The tire's rolling resistance helps save on fuel costs. This cost-saving feature would help you a lot when you're financially down, as your fuel consumption would decrease.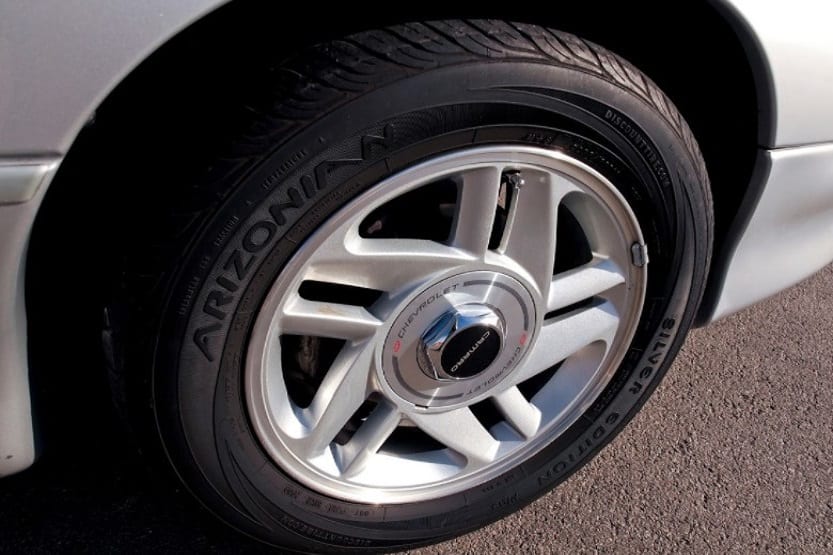 6. Enhanced Hydroplaning Resistance
The tire could enhance hydroplaning resistance to provide you better control of your vehicle, especially during the rainy or wet season. The tire also drives away water to increase a firm grip on the road's watery surface.
7. Rounder Tires at High Speeds
During high-speed driving on the road, the tire becomes rounder and helps you maintain steering control while retaining the vehicle's stability. This would help you drive through sharp turns and slippery roads.
8. Budget-friendly
The Arizonian Silver Edition III tires are budget-friendly. You can gain all the benefits of expensive tire models and yet pay a reasonable price. You can easily buy brand-new durable tires for as low as $60 to $66 per tire. For a total of $240 to $264, you can replace all four of your tires.
Also, be on the lookout for discounted prices, rebates, special offers, and coupons when buying. You may find one that could further reduce your tire's cost.
The Silver Edition III tires also offer a 55,000-mile limited treadwear warranty. And as a buyer, what more can you ask for?
Cons of Arizonian Silver Edition III
The reported disadvantages are few. But you still need to know about them.
1. Not Recommended on Roads with Deep Snow and Ice
Like most tires, I don't recommend the Silver Edition III on roads with deep snow or ice. You will have to use specially built tires for inclement weather. The Arizonian Silver Edition III tires could not withstand severe snowy and icy roads.
2. Unreliable Tires
A few drivers reported balding tires after only 15,000 miles. One person observed that the tire burst suddenly after using only 1/4 of the guaranteed tire life. There was also a reported case of the tires sliding, unable to get a firm grip on the road's surface. These reports are rare; nevertheless, be aware of them.
3. Few Sizes
There are only four (4) tire sizes, and they are 14, 15, 16, and 17 inches. Consumers are requesting more sizes in the market so that the tire could fit all vehicles.
Some Vehicles That Are Compatible with Arizonian Silver Edition III Tires
There are other vehicles not included in this list. You may want to ask the seller first if the tires would fit your vehicle. Here's a list you can refer to:
Toyota Corolla, Sienna, and Camry
Honda Civic, Odyssey, Accord, and Fit
Nissan Versa, Altima, and Maxima
Chevrolet Sonic, Cobalt, and Malibu
Hyundai Santa Fe, Accent, Sonata, and Elantra
Ford Focus and Fiesta
Chrysler 200 and Town & Country
Kia Forte and Optima
Arizonian Silver Edition III Review
Consumers' Arizonian Silver Edition III reviews favor the Silver Edition as a great all-season touring tire. Drivers are satisfied with its excellent performance and gave it a 4.5 over 5 rating. Its friendly price is one aspect that made it a popular choice. Other customers rated it 2.7 over 5. Thus, the rating is dependent on whether the buyer's goals were satisfied or not.
There were a few complaints about the tires losing traction after 15,000 miles of travel. But some also reported that the tires were more durable than expected considering the affordable price.
Consumers' reviews can, more or less, give you an idea of what to expect from your Arizonian Silver Edition III Tires. Based on these reviews, you may want to evaluate your needs before settling for a tire to purchase.
Who makes Arizonian tires? Arizonian tires are made by Cooper Tires. They are sold exclusively by Discount Tires.
We've discussed what Arizonian Silver Edition III tires are and their pros and cons. Let's now proceed to tips for buying Arizonian Silver Edition tires.
Tips When Buying Arizonian Silver Edition III Tires
Buying your Arizonian Silver Edition tires is easy – if you do it in an organized manner. You may want to follow these essential tips:
1. Prioritize Safety
It would help if you always prioritize safety over appearance. A tire may be aesthetically presentable but has operational hazards. Therefore, learn the product details of the tires before purchasing them.
You must also know the specifications of your car. What is its maximum speed? Know other crucial data to help you choose the most appropriate tires. It's very important to choose the correct tires for your car to stay stable and safe.
2. Decide Between All-season or High-performance Tires
Before shopping for tires, decide what you want: high-performance tires or all-season tires. High-performance tires are generally suitable for summer, while all-season tires are useful during winter and summer. Also, high-performance tires have larger blocks for good traction, while all-season tires have smaller ones. You can run your all-season tires during rainy, icy, or sunny weather.
If you have wintry weather almost all year round, with snowstorms occurring often, you may want to choose winter tires that are suitable for such harsh weather.
3. Know the Perfect Tire Size of Your Car
You have to measure accurately what tire size would fit perfectly into your car. By all means, use a measuring device if you want to be sure. Anyway, don't worry too much if you got the wrong size, as you can always swap it with the correct one.
I recommend letting the car mechanic in the motor shop replace your tires for you. I'm sure you exactly know what happens when the tires are not anchored securely and adequately. But if you can do it competently, then, by all means, go ahead and change your tires.
4. Choose the Smaller Blocks
The bigger the blocks, the higher chances of producing noise, while smaller blocks are more or less noiseless. The closed shoulder design prevents road noise too. So road noise occurs less, and you will enjoy a smooth and quiet ride.
5. Choose a Tire Traction That Fulfills Your Purpose
Where do you want to travel? What's your style when driving? Select a tire that serves your purpose, attracts your aesthetic sense, and makes you feel comfortable and secure. Choose the Arizonian tires if you plan to drive all year round.
6. Determine the Tire's Quality
Consider the consistency of the performance of the tire. The Arizonian Silver Edition III Tires contain an enriched compound that allows the tire to last longer. Moreover, ascertain that you're not buying a fake tire too. In other words, you have to buy from reputable sellers.
7. Always Buy Brand New Tires
Don't buy used tires, as they are more prone to wear and tear because of old age. It's like an engine; the older it gets, the more prone it is to damage. No matter how cheap the used tire is, please don't buy it. You'd be spending more than what you've bargained for when the used tire gets damaged quickly.
Unless you know the seller, like a family member or a close friend, you should never buy second-hand tires.
8. Have the Tire Tested
Before paying, have the tire get tested for any perforations or factory defects. Save time and energy by initial checking. If there are defects, you can swap the tire swiftly without losing so much of your time.
9. Visit the Shop's Website and Browse First
You can browse websites to search for your perfect tire. You can also buy them from Discount Tire or other authorized sellers of the Arizonian Silver Edition III Tires. Choose the product online, so you can conveniently review your selection when buying.
This advance online browsing would also facilitate your buying process. You may want to visit the website and find out what tires are on sale.
Conclusion – Arizonian Tires
The Arizonian Silver Edition III tires are affordable tires designed for all-season touring. The tire's durable tread life and all-season traction make it a popular choice among drivers.
Its lateral grooves and dozens of zigzag sipes help reduce noise and provide stability to the car. The smaller blocks also prevent road noise to ensure quiet, comfortable, and safe travels.
If you're skimping but need your tires urgently, the Arizonian Silver Edition III tire is the right choice. But if you have an extra budget and want a great tire, you may want to browse other tires before making your purchase.
You can purchase this Arizonian tire edition at Discount Tire or its authorized sellers.
Related reading:
How Long Can You Drive on a Tire with Fix-a-Flat?
Toyota Camper Specs, Review, and History [Tacoma, Sienna, and more]
GeoTour Tires Review [Who Makes Them? Are They Good?]
Who Makes Milestar Tires? [Milestar Tires Review]