Car manufacturers don't want to take chances with engine protection. For instance, Land Rover exclusively recommends Castrol Edge Professional oil for use with their engines. It is recommended because of its advantages over other oils.
Castrol Edge Professional is a type of motor oil enhanced with Titanium FST, a proprietary formulation. This new additive provides remarkable oil strength, which is particularly adapted to modern engines that work harder and operate at higher pressures.
Titanium FST to the full synthetic oil reduces friction even more and prevents the oil film from breaking down. It is the element that differentiates Castrol Edge Professional oil from Castrol Edge standard oil. There is also a special dye mixed with the standard formulation that makes the oil react to UV light.
Read on to learn more about Castrol Edge Professional oil, its characteristics, its pros and cons, and other information that will show if it is the motor oil that your vehicle needs.
Castrol Edge Professional Oil
Castrol Edge Professional oil is one of the many types of motor oils produced by Castrol Limited, a subsidiary of British Petroleum. This motor oil is boosted with Titanium FST. Titanium FST provides remarkable oil strength adapted to modern engines that work harder and operate at higher pressure.
Titatium FST
With the Titanium FST, the motor oil doubles its film strength. This prevents the oil film from breaking down while reducing friction as well. This element is the main thing that differentiates this professional oil from the Castrol standard oil.
Special Dye
There is also a special dye mixed with the oil to make it react to UV light. This property makes it easier to diagnose oil leaks in the system. Castrol Edge Professional oil is fully synthetic oil, just like the standard oil. Its manufacturer also claims that Castrol Edge Professional 5W-30 oil has a longer life span than other motor oils.
CO2 Neutral Engine Oil
Castrol claims that its Edge Professional oil is the first CO2 neutral engine oil certified in the world. This certification for every liter of Castrol Edge Pro OE 5W-30 is based on the highest global standards.
Any CO2 that remains in the manufacturing process used by Castrol Limited is offset by making investments in projects that reduce emissions. These projects include wind farms in Caledonia, clean energy production in China, and reforestation in Kenya.
Castrol is committed to reducing the carbon footprint of its products throughout its lifespans. In 2014, the company set a record of neutralizing 200,000 tons of CO2 globally. Castrol oils' shelf lives depend on their environmental and storage conditions.
Castrol Oil Can Last for Several Years
Castrol motor oils can last for several years, especially if they are kept in sealed containers, stored in cool and dry areas, and out of direct sunlight. From experience, they can last for up to five years.
Castrol Edge Professional is the strongest and the most advanced motor oil of Castrol Limited. It will help your engine perform at its best. It is manufactured using microfiltration so that it can satisfy the new quality standards of the company.
The oil quality is verified by the new Optical Particle Measurement System (OPMS). To complete the package, Castrol Edge Professional contains a UV tracer, which also signifies its product authenticity.
Typical Characteristic of Castrol Edge Professional Oil
Having a separate formulation, Castrol Edge Professional oil has its own characteristics. What are these characteristics? The table below will show them:
| | | | |
| --- | --- | --- | --- |
| Properties | Method | Units | Castrol Edge Professional OE 5W-30 |
| Viscosity, Kinematic 40°C | ASTM D445 | mm2/s | 70 |
| Viscosity, Kinematic 100°C | ASTM D445 | mm2/s | 12.1 |
| Viscosity, CCS -30°C (5W) | ASTM D5293 | mPa.s (cP) | 5750 |
| Viscosity Index | ASTM D2270 | None | 173 |
| Density @ 15°C, Relative | ASTM D4052 | g/ml | 0.8524 |
| Ash, Sulphated | ASTM D874 | % wt. | 0.8 |
| Flash Point | ASTM D93 | °C | 204 |
| Pour Point | ASTM D97 | °C | -42 |
Application of Castrol Edge Professional Oil
You can use Castrol Edge Professional OE 5W-30 in vehicles with gasoline and diesel engines manufactured by leading car makers. Leading car manufacturers approve it for use in their respective car models.
How you use this motor oil in your engine should be according to the car manufacturer's recommendations. You are advised to refer to the specifications section of your operator's manual.
Pros and Cons of Castrol Edge Professional Oil
If you really want to determine if Castrol Edge Professional oil is right for your car, you need to consider its pros and cons:
Pros
This motor oil can retain its thickness for a long time. This ensures optimum performance no matter what the operating conditions are.
It has impressive protection properties that can ensure the preservation of the engine much longer.
You can use this oil in high or low temperatures since it is resistant to both. It means you don't need to switch oil types during summer or winter.
When used with high mileage cars, you can improve your engine's performance.
This motor oil tends to stick on metal surfaces. That means it will lubricate your engine continuously, even if you will not use your car for a while. You will have an easy and smooth engine start-up even in cold weather.
Cons
Due to its special protective properties, this motor oil does not come cheap.
It is not easily available in local auto stores. But many online stores are offering it.
Delivery from online stores can take from one to two months. To avoid delays, you may need to order extra cans.
The tamper protection seal is a bit tough. Some people have found it hard to open. Others have to use razor blades to open the container. Castrol made sure that the container will not leak while it is being shipped.
Some users have complained that they didn't notice much improvement in the performance of their engines after using this motor oil. Perhaps they have to check their car operator's manual to see if they can really use this oil in their car engines.
Castrol Edge Professional vs. Castrol Edge Standard
It is not only in their names that the Edge Professional and the Edge Standard are different. One of the differences between these two is that the Pro contains a special dye that reacts to UV light. If there are leaks in your engine oil system, this feature makes it easier to trace the leak.
Another difference is that the AFS (standard) motor oil is more of generic oil. On the other hand, Castrol Edge Professional is certified for certain car makers' use, such as the Volkswagen diesel. But now, you can also use it on non-VW types of diesel. But to be safe, you still need to see the additives on the package since not all oils are the same.
Advantages of Castrol Edge Professional Full Synthetic Oil
Castrol Edge Professional oil has several advantages over other standard motor oils:
1. Compatible with Both Conventional and Synthetic Oils
Castrol Edge Professional oil is compatible with standard and full synthetic oils. So, if you need to top up the existing engine oil, you don't need to drain the remaining amount of the previous oil. Just pour the required amount of the Edge Pro oil, and you are done.
2. Ability to Supply the Engine's Maximum Demand
Castrol Edge Pro can provide the needs of an engine that is running at its maximum performance. It can provide a high level of protection for modern and specially engineered engines that run under tighter clearances.
3. High Level of Stability
This motor oil does not lose its viscosity even when subjected to extreme conditions. Conventional motor oils usually break down when exposed to such conditions. Castrol Edge Professional oil will not increase its viscosity either in extreme cold or extreme heat. It will provide maximum performance and protection in all conditions.
4. Resistant to Rust and Oxidation
This fully synthetic oil is highly resistant to rust and oxidation. When this motor oil is used, the engine will not develop rust due to oxidation even if it is not used. Its ability to resist oxidation prevents acids from forming inside the engine. If there is an acid in the engine, the engine parts will be corroded, leading to shorter engine life.
5. Reduces Metal to Metal Contact
An independent test conducted by Land Rover revealed that Castrol Edge Professional oil reduces metal-to-metal contact by 45% compared to a similar motor oil brand.
6. Other Advantages of Castrol Edge Professional Oil
Independent tests proved it to enhance engine efficiency
It can maintain superior performance even when under pressure
It reduces engine deposits which maximize engine response
Life Span of Castrol Full Synthetic Oil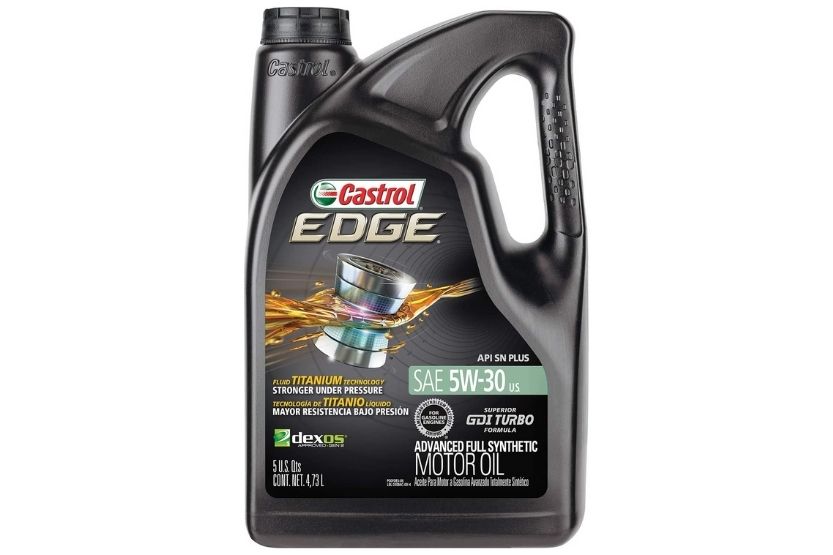 The Castrol Oil Edge Professional oil manufacturer estimates that it can protect your engine for 10,000 to 15,000 miles or about six months. But the actual numbers will depend on several factors such as your driving habits, the age of the engine, and the usual conditions where you use your car.
One way you can extend the life span of this motor oil is to avoid stop-and-go traffic as much as possible. If you drive like this every day and only for short distances, you will cause faster deterioration of the motor oil.
When you turn the ignition key, it will take time before the engine and the engine oil warm up. Driving in a stop-and-go manner turns off the engine before it is warm enough.
In addition, the way you drive will affect the lifespan of the motor oil. For instance, if you drive like a race driver, you will be shifting the gears a lot. In this kind of driving, the motor oil is subjected to extreme pressure and extreme temperature.
When kept in a sealed can, Castrol Edge Professional oil will last up to five years before it will expire. The actual length of time will also depend on how the can is stored and the storage conditions such as temperature and moisture. To extend its life to the fullest, store the can in a cool and dry place.
Castrol Oil Partners with Land Rover
One of the leading vehicle manufacturers in the world, Land Rover, has partnered with Castrol to recommend the Castrol Pro Edge oil exclusively. This shows the confidence of this carmaker in the ability of Castrol Edge Professional oil to protect their engines.
In this partnership, every Land Rover engine starts its life with Castrol Oil. For more than 11 years, Castrol Oil has been supplying Land Rover dealers nationwide with dedicated Castrol full synthetic oils. That is why Land Rover exclusively recommends Castrol Edge Professional oil. This motor oil can deliver high levels of performance that Land Rover drivers require.
In their partnership, Land Rover extensively tests Castrol professional oil in its engines at their developmental stages. As a result, both engine and motor oil technologies are optimized. This enabled the engines and the motor oils to deliver excellent performance, reduce CO2 emissions and improve fuel economy.
Castrol Oil Professional OW-20
Castrol Limited also produces Castrol Edge Professional 0W-20. Land Rover recommends this motor oil too. It is a fully synthetic OE spec genuine oil with additives. Land Rover engineers and Castrol oil technologists developed its formulation.
Castrol Oil Professional OW-20 is also specifically produced for the use of Land Rover engines. It is being used in newly produced Land Rover vehicles.
Conclusion: Castrol Edge Professional Oil
Castrol Edge Professional is a type of engine oil enhanced with a proprietary formulation called Titanium FST. This additional element provides considerable oil strength, making it ideal for modern engines that work harder and operate at higher pressure.
The addition of Titanium FST also doubles the oil film strength. It prevents the oil from breaking down and reduces friction as well. This motor oil also has a special dye mixed with the standard formulation. It enables this motor oil to react to UV light making oil leak tracing easier.
Related reading:
Best High Mileage Oil [Top 7 Engine Oils]