Disclosure: We may get commissions for purchases made through links in this post.
Automotive primers are used to lay a stable base before the topcoat of paint is applied. An even more effective auto primer is the high build primer. A high build primer will also hide surface imperfections, so the topcoat goes on smooth.
A high build primer is used primarily as scratch filler. It is typically polyester-based. This primer is used on fiberglass surfaces or to cover "Bondo" or putty as the final layer of primer before applying the primer-sealer and several topcoats.
High build primers are formulated to cover surfaces with relatively thick films that will not run or sag with just a single application.
Read on to learn more about high build primers, when used, and tips for applying a high build primer to your car or truck.
Also, for an excellent high build primer, take a look at the SEM High-Build Automotive Primer Surfacer on Amazon to see its price and great reviews:
Click here to see it on Amazon.
About the High Build Primer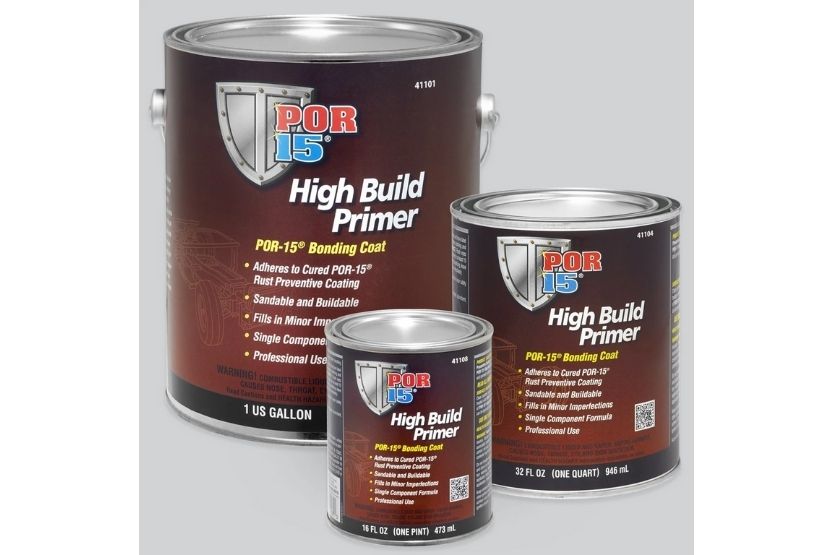 A high build primer is a surfacer that functions as a scratch filler. It is a polyester-based thick substance that is typically used on fiberglass surfaces or parts. This type of primer is also commonly used to cover surfaces with putty or "Bondo." It acts as the final primer before the application of the primer-sealer and the final paint coats.
High Build primers are made of formulated substances so that with just one application, they can cover surfaces with thick films that won't run or sag. After they are applied, they provide an even surface making absorption even.
A high build primer primarily primes the substrate with thicker films than what regular primers can give. Many paint manufacturers use the term 'high build' to refer to the primer used to prepare a surface before the color coat is applied. This primer can be mixed with thinners at certain proportions if various primer thicknesses are required.
Purpose of High Build Primers
The basic reason high build primers are applied to metal surfaces is to duplicate or copy the cataphoretic dip priming process used by car manufacturers to produce metal panels highly resistant to corrosion.
The process of cataphoresis is also called electrophoresis deposition (cationic electrophoresis. This is a type of surface treatment that electronically deposits an epoxy-type coating on a metal surface. For example, you can use it for the following:
Cast iron,
Steel,
Magnesium,
Aluminum and other metals.
How Much High Build Primer Is Used?
Some automotive painters suggest that the application of high build primers be kept to three coats at a time. This is followed by finishing the bodywork with 180 grit sandpaper. In this way, you can fill all the scratches and pinholes before applying the prime sealing.
Do High Build Primers Really Work?
Yes, they really work because high build primers provide an even surface for the paint to be absorbed evenly. Their main benefit is the priming of the substrate. It will also depend on the type of High Build primer that you will use.
If you are using a high build primer that is urethane-based, you need to wet sand the primed surface. But if you are using a polyester high build primer, there is no need to wet sand it. These High Build primers are usually available in spray cans. They absorb water as most body fillers would. However, if not applied properly, they can create problems in the future.
High build primers add relatively thick coatings of films that can be sanded. They are used to remove imperfections in surfaces and metal panels. On average, two coats of high build primer will be enough.
It is not advisable to apply high build automotive primer directly onto bare metal because there is a high probability of flipping off. They are available in 2-pack and cellulose. You need to be more safety-conscious when using the 2-pack variety than the cellulose type.
But the 2-pack types tend to provide thicker and smoother surfaces than the cellulose types. They also are not prone to shrinkage. Therefore, when applying a high build primer to door edges, only apply what is required. If too much primer is applied, the surface will be prone to chipping.
High Build Primer Benefits
There are many advantages to using high build primers. For example, metal surfaces or parts that are coated with this type of primer will develop the following properties:
Better concealing properties even while the primer coating is still wet.
The surface is more attractive to look at. It will be smoother but not slippery, easier to maintain, and more durable. Minor imperfections are hidden, and the surface is more wear-resistant.
Crack-bridging capacity is better. There is a greater ability to cover voids and spaces and other tiny imperfections used by moisture as entry points.
More resistant to water vapor and moisture. The surface is also more resistant to the effects of freeze-thaw cycles and wind-driven rain. These properties benefit the coated metal surface, considering that the water and moisture usually carry contaminants that cause corrosion.
Where Are High Build Primers Used?
Automotive and Building Industry
High Build primers are primarily used in industries where the painting of surfaces is required. The two major industries that use these primers are the automotive industry and the building industry. In the automotive industry, these primers are used in coating metal surfaces and parts, while in the building industry, they are used in coating surfaces of floors, walls, ceilings, and roofs.
Classified as Filler Primers
These primers are basically classified as filler primers. They are typically used to fill in the tiny pits in the surface that develops because of rust or scratches created after sanding. A High Build automotive primer can hide these imperfections faster and better than an epoxy primer.
More than a Liquid Body Filler
Some restorers and painters believe that these primers are more than liquid body fillers because of what they can do and the many ways you can use them. For example, you can apply two to three coats of this primer, but you need sand between each coat.
These primers have a texture that can fill imperfections and pits on the surface. That is why you need to sand the primer surface. If you don't, the primer surface will be rough to paint over. Additional preparation also needs, such as the application of a sealing primer.
How to Apply High Build Primer
There is a right process of applying high build primers. However, as in any painting job, there are steps that you need to follow. When applying a high build primer, the following steps are recommended:
1. Prepare the Surface
Clean all surfaces. They must be free of oil, dirt, grease, polish, wax, dust mildew, loose and peeling paint, mold, rust, and other foreign objects.
Wash the surface if necessary. Use a non-soapy detergent, rinse well and dry the surface.
If there are sections with mold or mildew, clean them with a mildew remover, then rinse with water and dry them before applying the primer.
2. Apply the High Build Primer
Wear eye protection.
Apply or spray the primer as instructed in the can. Do not thin your application. The high build primer on the can is formulated for use only at its package consistency.
Apply primer when the temperature of the surface and air is between 50°F to 90°F. If cellulose primer is used, stir thoroughly and occasionally during use. Then, use an airless sprayer to apply it.
The tip of the airless spray should be from 0.019 to 0.021 inches without the gun and filters.
Apply the primer on the whole surface to get a uniform topcoat appearance.
Typical coverage is around 75 to 100 square feet per gallon with 16 to 21 mils thickness of primer. The spread rate will vary according to the texture and porosity of the surface and application technique.
On average, two coats are recommended.
3. Drying Time
High Build primers generally dry to touch in about one hour.
Apply the next coat only after 4 to 8 hours.
Full curing of the coats will take around 2 weeks.
These only approximate, actual drying and curing time will depend on the room temperature, humidity, ventilation, and the number of coats applied.
4. Clean Up and Disposal of Excess Primer
Clean painting tools and equipment, as well as paint splatters with warm and soapy water. For spilled primer, contain and remove them using an inert solvent. Dispose of unused primer, container, and contaminated absorbent according to regulations of your local and state authorities.
Don't throw excess primer down a drain. Instead, it is better to donate unused but still good primers to those who need them. There should be a household collection service in your area that you can contact for this purpose.
Best High Build Primers
If you need a high build primer for your car painting project or other painting projects, here are some products that you can consider:
1. SEM 42013 High Build Primer
Click here to see it on Amazon.
This high build primer comes in 16 oz aerosol cans. It is an elastomeric acrylic coating for priming automotive metal, urethane, aluminum, and plastics. The SEM High Build Primer comes in grey, black, white, and beige.
2. Custom Coat 1K High Build Primer
Click here to see it on Amazon.
This High Build primer comes in 16 oz spray cans. It is used for primer coating automotive and industrial metals. The Custom Coat 1K High Build Primer can be applied directly to metal and easily sanded.
This primer can provide superior adhesion, has excellent filling properties, and works on flexible and rigid substrates. It is a flexible surfacer that can prime steel, fiberglass, urethane painted surfaces, SMC, and aluminum.
3. POR-15 High Build Primer
Click here to see it on Amazon.
This is a High Build primer that comes in 1-quart cans. It is a single component formula that can fill minor surface imperfections. The POR-15 High Build Primer can prime steel, stainless steel, aluminum, brass, and other primed and painted surfaces.
High Build Primer FAQs
Here are some questions and answers on the topic of high build primers. You need to know this information to understand better how you should use it and how it works.
Can I Apply Body Filler over High Build Primer?
Yes, you can apply body filler to a surface coated with high build primer. But make sure that you sand the surface with sandpaper #150 so that the filler will have something to grab onto.
Can High Build Primer Fill Scratches?
Yes, high build primers can fill scratches due to sanding or other reasons. They can fill 180 grit sand scratches.
Can I Spray High Build Primer over Epoxy?
You don't need to sand epoxy to cover it with a primer. So, you can spray high build primer onto epoxy directly but be sure to follow its correct application method.
How Thick Can You Build High Build Primer?
You can apply as much as 0.5 mm thickness of high build primer. But you will still have the same quality of surface finish as you started with if you apply it all in just one coating. If you send it back, your final results will be good.
What Are the Kinds of Imperfections That a High Build Primer Can Hide?
A high-build primer can hide many types of imperfections. It can conceal small scratches, tiny pinholes, small dents, and other small surface flaws. Restorers typically put 2 to 3 coats on a panel. They allow it to dry, and then they dust the panel with a dark spray.
Then they wet flat back the pane with 800. They will then rub the panel back and forth until the imperfections are all gone. It will take time, but the job gets done.
Conclusion: High Build Automotive Primer
A high build primer is typically used as scratch filler. It is a coating substance that is usually polyester-based. This primer is primarily used on metal or fiberglass parts or surfaces. It is also used to cover surfaces that are already covered with putty or "Bondo."
A high build primer serves as the final primer layer before the primer-sealer, and final coats of paint are applied. One of its main uses in the automotive industry is to hide small imperfections such as dents, pins and scratches on metal surfaces.
Related reading:
How Much Does It Cost to Repaint a Car? [Average Cost]
How Much Does It Cost to Paint a Truck?
Bullet Holes in Car – How to Repair