If you are looking for a low-displacement scooter but would rather have a bit more power than a 50cc, then you should check out the Honda Elite 80. This iconic scooter was in production for more than 20 years, a testament to its reliability. What are the Honda Elite 80 specs?
The Honda Elite 80 is powered by a single-cylinder, 4-stroke, 80cc motor. Although you will not get much speed and power from this engine, it makes up for it by providing exceptional gas mileage.
Read on to learn more about the iconic and infamous Honda Elite 80 scooter and its specs and features.
About the Honda Elite 80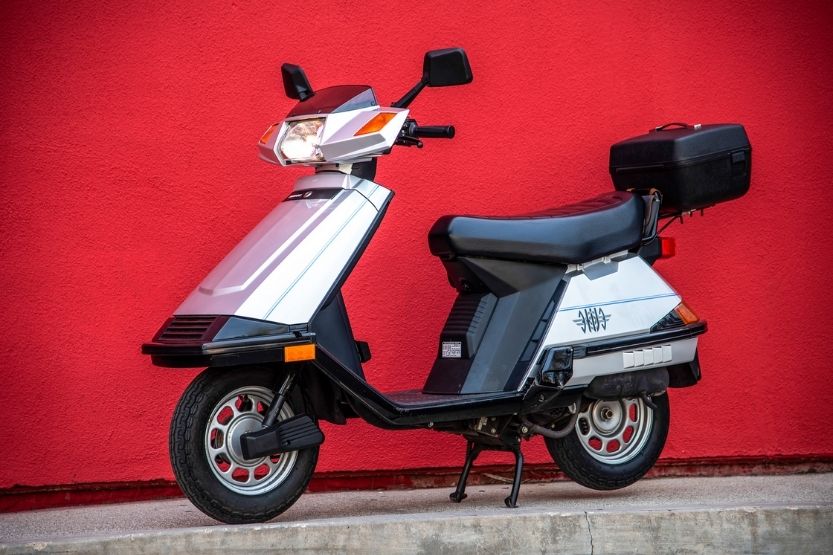 The Honda Elite first came out of the production line in 1985. This scooter was Honda's answer to Yamaha's Riva 80, which is also an exceptional vehicle. The Elite 80 went into production for an astounding 23 years, with 2007 being the last model year.
Even more astounding is that the Honda Elite 80 lasted for all that time. And this is with minor changes made from one model year to the next.
There were only a couple of significant changes made during its early years. One is changing the wheels from steel to aluminum. This made the scooter a lot lighter.
Honda also tweaked the headlight. When the headlight bulb burns out in earlier models, you will need to replace the entire headlight assembly. After almost 20 years, Honda finally revised the design. This time, it is designed in a way that you can replace just the bulb and not the whole assembly.
Honda Elite 80 Engine
The Honda Elite 80's engine is one of the most reliable units ever made. There is nothing that special about it. It is just a standard 2-valve, 4-stroke gasoline engine, but it is almost indestructible. It is quite powerful for an 80cc engine. You can essentially leave it running for an entire day at full throttle, and it will be just fine:
1. Top Speed
Although you will not be tearing up the tarmac with this scooter, it provides enough power to get it up to its 45-mph top speed in a respectable amount of time. Twist the throttle, and the Elite 80 will be pulling strong, unlike 50cc 4-strokers.
2. Quieter and Reliable
You will be getting the same kind of power that you would typically get from a 2-stroke 50cc motor. However, it is a lot quieter, more reliable, and significantly more fuel-efficient.
3. Cold-blooded
However, because this scooter uses a carburetor to feed fuel into the cylinder, it makes it a bit cold-blooded. This means you will need to let the engine warm-up for a couple of minutes before you go riding. You'll know when the Elite 80 is ready to go when you hear the engine idle get more relaxed.
You will not be getting an insane amount of power from this 80cc scooter. However, you will be having a fuel-efficient and reliable bike that you can use to buzz around town.
Honda Elite 80 Fuel Consumption
As mentioned earlier, the Honda Elite 80 scooter has a 4-stroke engine. This makes it quite fuel-efficient, as is typical of 4-stroke motors. However, the engine of the Elite 80 is at the top of its class when it comes to gas mileage.
In addition to the efficient motor, it just weighs a little over 170 pounds. This is because the Elite 80's body panels are mostly plastic. This makes it lighter than the average American male. It allows the Honda Elite 80 to travel up to 100 miles (depending on your riding style) on a full tank of gas (1-1/3 gallons).
Honda Elite 80 Controls and Handling
1. Responsive Throttle
The Honda Elite 80 has a responsive throttle. However, it still has a bit of a delay that prevents the bike from going out from under you. It is also a rather small bike. If you are over 6 feet, then you may find that riding this tiny bike quite uncomfortable. On the other hand, average-sized people will find the wide and nicely padded seat comfortable.
2. Comfortable Neutral Riding Position
Speaking of comfort, the wide floorboard gives the Honda Elite 80 a very comfortable neutral riding position. You can even put your feet a bit more forward for an even more comfortable ride. There are also integrated passenger footpegs for when a petite friend needs a ride. However, having a passenger will put a bit of strain on the small motor.
3. Bold and Easy to Read Gauges
The gauges are bold and easy to read, mainly thanks to the 80s-style graphics. There is a large speedometer and a fuel gauge (which is a rarity in early 80s scooters). It also has an indicator of when you need to change the oil. However, this indicator only depends on the miles traveled since the last oil change and not necessarily the condition of the oil itself.
4. Push-button Start and a Kill Switch
The Elite 80 comes with a push-button start and a kill switch. However, this scooter does not have a backup kickstart. This would be a problem when the battery ran dry, although it is fortunate that it is easy to access underneath the seat, so you can probably get a jumpstart from strangers.
Again, what does Honda Elite 80 offer? The Honda Elite 80 has a single-cylinder, 4-stroke, 80cc motor. Although it can't offer you much speed and power, it can offer you excellent gas mileage.
Honda Elite 80 Storage Capabilities
1. Novel Storage Solution
Compared to the Aero 80 that came before, the Elite 80 provides more storage space. However, do not get too excited. This scooter has a novel storage solution by placing a "trunk" at the front panel of the bike. The amount of storage space is dismal, though. There is only enough space for a jacket, your phone, and maybe a can of soda if you are so inclined.
2. No Storage Underneath the Seat
If you think that there is more storage space underneath the seat, you are sorely mistaken. The space underneath the seat is completely taken over by the 5L gas tank and the battery compartment. There is a bit of space, but just barely enough for sparkplugs and a couple of wrenches.
3. Good-sized Luggage Rack at the Rear
However, the Elite 80 does have a good-sized luggage rack at the rear, so you can probably tie down a rather large box if you need to. You can probably place another bag or box between your legs on the floorboard. However, you should not overload this scooter as it does not have that much torque.
Honda Elite 80 Build Quality
Mostly Aluminum Frame and Wheels
The Honda Elite 80 weighs only 175 pounds. The main reason is the mostly aluminum frame and wheels as well as the plastic body panels. It is also why even though the 80cc engine does not put out that much horsepower, the Elite 80 can still be sprightly on the road.
Regarding the 80cc motor, you will find it hard to find something that is as robust. You can open the throttle for an entire day, and the Elite 80's motor will not even sound any different.
Easy Repair
Also, if it needs repairs, it will not take that long to do regardless of the damage. Even an amateur mechanic will not have any problem rebuilding the engine and carburetor in just a day or two.
Honda also made it a point to make everything accessible in the Honda Elite 80 to do their maintenance works. The oil plug and fuel lines are all accessible without any need to remove panels. You can flush the engine and replace all the fluids by yourself. You will only need a couple of basic tools that you probably already have in your toolbox.
Honda Elite 80 Pros
1. Easy to Access Electronic Wiring for Repairs
If you need to check the wiring, you can access them by opening the front compartment and removing a panel at the center.
2. Very Lightweight
This scooter weighs less than the average American at just 175 pounds. This makes it easy to maneuver. Even someone with a light frame will not have any trouble riding this scooter.
3. Comfortable Wide Seat
The seat is wide enough that you will not find it hard to find a comfortable seating position. Moreover, the nicely upholstered seats make even long rides enjoyable.
4. Easy to Access Battery
Unlike other scooters where you need to remove a panel to get to the battery, the Honda Elite 80 requires you to lift the seat. The battery is right beside the fuel tank. This means that if you need to replace the battery or ask for an emergency jumpstart, you know where to find it.
5. Reliable Engine
The Elite 80's simple 80cc engine is one of the most reliable small displacement motors ever made. As a testament to its longevity, you can find many late 80s and early 90s models of the Elite 80 in excellent running condition today. If you keep up with its maintenance schedule, you can be sure that this little scooter can last for many more years.
6. Exceptional Gas Mileage
This is one little scooter that can go for miles, even on fumes. On average, you can probably get around 80+ miles on a full tank of gas, which is just 5 liters (1-1/3 gallons). Now, if you are one of those ultra-milers, you will most likely get at least 100 miles on one fuel stop.
7. Easy to Maintain
All the important parts of the Elite 80 are easy to access. For instance, if you need to rebuild the carburetor, it is only held in place by two 10mm bolts. You do not even need to remove any body panels. Also, even though the Honda Elite 80 has been discontinued for 14 years, you can still find replacement parts for it online and in many motorcycle shops.
Honda Elite 80 Cons
1. Not That Much Storage Space
The front "trunk" storage space might have been a novel idea, but you could not put anything more than a couple of books and maybe a bottle of water in there. There is also a bit of storage space underneath the seat. However, it is only big enough for a small tool bag.
2. Headlamps Integrated Into the Housing (Earlier Models)
The first couple of model years of the Honda Elite 80 had headlights integrated into the headlight housing. This means if the headlight burns out, you will need to replace the whole assembly, which is usually upwards of $100 a set.
3. No Backup Kickstart Pedal
The Elite 80 comes with a nice electronic ignition system, but it does not have a kickstart pedal. So, if you drain the battery, you will not be able to start the bike.
4. Headlights Are Not That Bright
Even when set on the high beams, the headlights are not much brighter than a regular flashlight. The oncoming cars will still see you coming up at them. However, you will have a hard time seeing what is in front of you in the dark.
5. No Fuel Filter
The Honda Elite 80's engine might be robust. However, it can get clogged up with gunk from the gas tank because it does not have a fuel filter. You can easily fix this issue by installing a simple fuel filter on the fuel line, a simple task that you can do yourself.
Conclusion – Honda Elite 80 Specs and Review
The Honda Elite 80 is a low-displacement motorcycle that comes with a single-cylinder, 4-stroke, 80cc motor. Although the Honda Elite 80 top speed is just 45 miles per hour, it still has one of the most reliable engines that Honda ever made. In addition, it has one of the best gas mileage of any scooter ever.
If you are looking for a good project scooter that is not that hard to get up and running, you can get the Honda Elite 80. The single-cylinder engine is quite simple and easy to rebuild. You will not also have a hard time searching for parts. There is a reason why this scooter had such a long manufacturing lifespan and why many people still want it now.
Related reading:
Yamaha C3 Scooter Specs and Review