Lug nuts play a significant part in securing the wheels of your car. That's why it is essential to familiarize yourself with the lug nut torque spec chart to ensure that your wheels don't fall off.
A lug nut torque spec chart provides the proper torque specifications for your car's wheels. It serves as a guide to making sure you apply the right amount of force when installing the lug nuts.
Read on to learn more about the lug nut torque, its specs, and how to read its spec chart.
Lug Nut Torque [Specs and Spec Chart]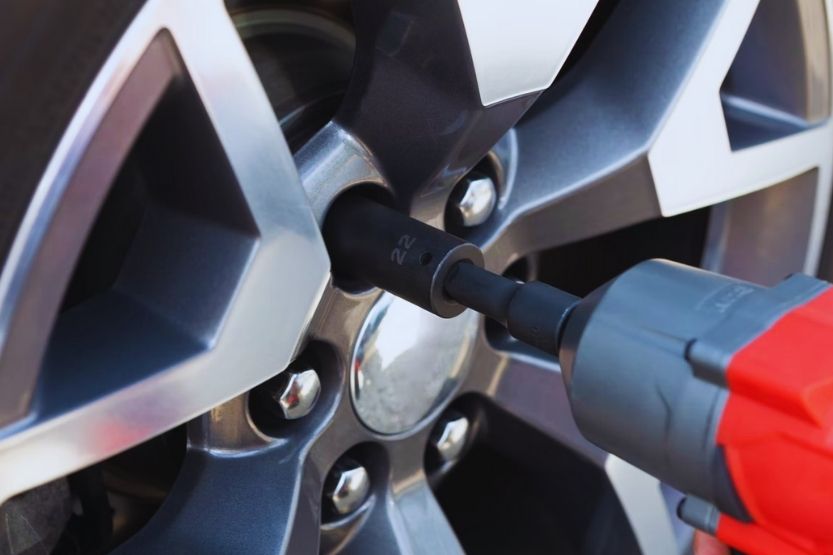 A lug nut torque spec chart consists of the proper torque specifications for your car's wheels. It can serve as your guide in making sure that you apply the right amount of force when installing the lug nuts.
What Is a Lug Nut?
A lug nut or a wheel nut is a fastener that secures the wheel to the vehicle. They consist of one end called the seat. It is either tapered or round, but its shape may vary.
Lug nuts attach the wheel's hub to the threaded wheel studs of the axle. This will not only hold the wheel in position but will also center it correctly on the axle.
Lug nuts are placed onto the stud on top of the wheel. Ensure the seat of the lug touches the hub directly. They are often made from chrome-plated steel, offering corrosion resistance. Titanium or anodized aluminum lug nuts are tough. They are ideal for vehicles requiring lighter-weight materials, such as race cars.
As already mentioned, the size and model of a lug nut vary according to the vehicle and the axle. At the same time, the correct lug nut seat depends on the actual wheel.
What Are Torque Specs?
Torque is the measure of force that causes an object to rotate around an axis.
The torque specifications are the recommended force when attaching a wheel to a vehicle. This is to make sure that you have correctly installed the hardware.
What Is the Importance of Lug Nut Torque Specs
Maintain a Car's Functionality
Experts designed and manufactured the lug nuts to fit the thread size of the vehicles' wheels studs. They are usually tapered to ensure wheel security. Torquing your car's lug nuts to the correct specifications is important in securing your safety. Also, it's important to maintain the functionality of your car.
Too Much Torque May Lead to Overtightening
There are several reasons why following the exact torque specifications is important. For instance, too much torque may lead to overtightening. This can cause the wheel studs, bolts, and posts attached to the wheel to stretch. This will apply stress that may cause the wheel stud to break during tire installation or on the road.
Excessive Torque Can Warp the Brake Rotors
Excessive torque can also warp the brake rotors. This causes the car to shake when the brakes are applied. It then affects the control of the car. The cost of getting damaged rotors repaired or replaced can be quite expensive. But it could be avoided by following the right torque specifications.
Too Little Torque Can Stress the Wheel Studs
On the other hand, too little torque can also stress the wheel studs. It will also loosen the lug nuts and eventually cause the wheel to fall off. Proper lug nut torque is vital to ensure that the wheel is properly mounted to the car. Whenever you remove or reinstall a wheel on your car, the hardware must be torqued. You must use a torque wrench with the proper calibrations.
How to Determine the Right Type of Lug Nut
Here are the five factors you need to consider so that you can find the right lug nut for your wheels. These include the following:
Seat Type
Thread Size
Thread Pitch
Wrenching Type
Appearance
1. Seat Type
The seat type is where the lug nut is making contact with the wheel's surface. The three most common seat types are:
Conical,
Spherical, and
Flat seat.
A 60-degree Tapered Lug Nut Is a Common Design
A common lug nut design is a 60-degree tapered lug nut. The tapered seat helps center the wheel while the nut is being tightened. This results in a well-balanced assembly.
45-degree Tapered Seats Are for Track Racing Wheels
Meanwhile, 45-degree tapered seats are more reserved for wheels used in track racing. You should never use them on Original Equipment Manufacturer (OEM) wheels with a 60-degree tapered seat.
2. Thread Size
Use a Set of Digital Calipers
To determine the lug nut thread required by your car, you will need to find out the thread size. Measure the outer diameter of your car's wheel stud threads. Getting an accurate measurement with a tape measure can be difficult. So use a set of digital calipers instead.
Common Thread Measurements
The most common thread measurements for lug nuts using Society of Automotive Engineers (SAE) sizes are:
7/16″,
½,"
9/16″, and
5/8″.
The most common diameters for threads using the metric system are 12 mm and 14 mm.
3. Thread Pitch
Most Common Thread Pitches
To find out the thread pitch, you have to count the number of threads within a 1-inch section of the stud. Using a tape measure, section off a one-inch portion and then count the threads manually.
For SAE-sized lug nuts, the most common thread pitches are:
7/16″ -20 (7/16 inches, 20 pack),
½" -20,
9/16″ -18,
5/8″ -18, and
5/8″ -11.
Count the Number of Threads within a 1-mm Section
To find the thread pitch for metric threads, count the number of threads within a 1-mm section of the stud. This is extremely difficult to estimate, so it is suggested to mark off a ten mm-long section. After counting the threads, divide the number by 10. The most common metric thread pitches are 1.25 and 1.50 threads per millimeter.
4. Wrenching Type
Hex Lug Nuts Are the Most Common and Popular
The three most common wrenching types are:
Hex,
Hex key or turner style, and
Spline drive.
Among the three, hex lug nuts are the most common and popular. This is because they can be installed or removed using easily available sockets or wrenches.
This allows the wheels to be easily removed when it needs service or repair. But it also makes them easy to steal. Purchase a set of wheel locks to prevent your wheels from getting stolen.
Hex Key and Spline Drive Lug Nuts Require a Special Tool to Install
The hex key and spline drive lug nuts require a special tool or key to install or remove. Spline drive lug nuts are used to match a specific wheel style or change its overall look. You may also use one spline drive per wheel for anti-theft purposes. They are also referred to as wheel locks.
Hex Key Lug Nuts Provide a Smooth Appearance
Hex key lug nuts provide a smooth appearance and are typically used for wheels. It has a very small counterbore where the lug nut perfectly fits into. A main advantage of the hex key is that the finish of their outer surface won't have any damage when you install or remove them.
5. Appearance
Open-ended Lug Nuts Can Resist Corrosion
The appearance or finish is another factor to consider when purchasing lug nuts. Many open-ended lug nuts are zinc-plated to resist corrosion. But they don't have the shiny quality that most find desirable in various applications.
Enhance the Wheels' Appearance with Black Lug Nut
You can achieve a show-quality shine with a chrome-plated finish. You also have a choice of numerous black lug nut varieties to enhance your wheels' appearance further.
Again, do you need a torque wrench for lug nuts? If you need to work on your car's engine or the powertrain components, you need a torque wrench and your manual for the lug nut torque specifications. Usually, torque force is measured in meter-kilograms (m-kg), newton-meters (Nm), and pound-feet (lb-ft).
How to Install and Tighten Lug Nuts
It is always advisable to have your lug nuts installed or replaced by a professional mechanic. But it might be helpful to know the procedure in case you may have to do it on your own. This way, you will avoid tightening the lug nuts too much or too little. Also, you will prevent causing damage to the threads.
Let's talk about lug nut installation using the following steps:
Prepare the Materials
Tighten the Lug Nut
Proper Torque Application
1. Prepare the Materials
The primary tools you will need in installing or replacing a lug nut are a socket wrench and a torque wrench. Some mechanics prefer using an impact wrench as they are easy to operate. But if you have no experience in using one, you may overdo it and end up damaging the wheel studs.
Be sure you have a manual handy to guide you if you're not sure how to calibrate your torque wrench properly.
2. Tighten the Lug Nut
Before you use a wrench, use your hand first to tighten the lug nut. Then, use a socket wrench to tighten the lug nut partially to level with the wheel. Next, fully tighten the lug nut using a torque wrench until you hear the wrench click. This means that you have reached the right amount of torque.
To ensure that stress is distributed evenly, it is advised to work in either a crisscross or star pattern.
3. Proper Torque Application
In properly installing a lug nut, it is also vital to apply the correct torque without damaging it in the process. You must calibrate the torque wrench to a stationary tightness according to feet per pound. Consult the manufacturer's instructions on the proper torque you should use, although the required torque for most modern cars is between 60 and 120 feet per pound.
Remember, keeping a steady hand and knowing the proper specifications are important factors in installing and replacing lug nuts.
What Pattern Should Be Used to Tighten Lug Nuts?
For a 5-lug Wheel
On a 5-lug wheel, the most common method is to work in a star pattern, starting with a top-corner lug nut. Then move diagonally until you have tightened each lug.
For a 4-lug wheel
On a 4-lug wheel, move for the first bolt diagonally. Then move across, and then diagonally again. For a 6-lug wheel, move horizontally, starting with the bolt directly across. Then move diagonally, horizontally two more times, and finally diagonal.
Tightening the lug nuts in these patterns will properly seat the rim against the hub as you apply torque. It enables you to apply tightening force accurately.
When Should Lug Nuts Be Re-Torqued?
Re-torque Lug Nuts After 50 to 100 Miles
Most manufacturers recommend re-torquing lug nuts after 50 to 100 miles of driving regularly. This is in case the lugs have loosened due to vibrations or settling between the rim and the hub.
Ensure Your Vehicle Has Proper Torque
Track vehicles should also get their lug nut torque checked following every session, as stresses are significant for each one. Likewise, towing vehicles are also at risk of loosened lug nuts and other wheel issues due to the excess pressures that are hauling loads exert.
Making sure that your vehicle has proper torque will only take you a few minutes. It's a small price to pay compared to what you would be spending in case of loose lug nuts cause you to lose control of your car.
Lug Nut Torque Spec Chart
Here is a small lug nut torque chart to help guide you in torquing your lug nuts. It indicates the torque in feet per pound for each thread size:
| | |
| --- | --- |
| Lug Nut Thread | Torque (ft/lbs.) |
| 7/16 inches | 75-85 |
| ½ inches | 85-95 |
| 9/16 inches | 130-140 |
| 5/8 inches | 130-140 |
| 12 millimeters | 70-80 |
| 14 millimeters | 85-90 |
Lug Nut Torque Spec Chart
Each type of vehicle comes with its own recommended torque specifications. Lug nut torque specs vary according to an automobile's make, model, and year.
You can purchase a more detailed lug nut torque chart that provides the proper specs for over 300 vehicle types from at least 1990 to the present. You may also refer to the owner's manual of your car to determine its required torque specifications.
Conclusion – Lug Nut Torque [Specs and Spec Chart]
To reiterate, a lug nut torque spec chart provides the proper torque specifications for your car's wheels. It serves as a guide to making sure you apply the right amount of force when installing the lug nuts.
Applying the proper torque to the lug nuts is crucial in wheel installation. Knowing the proper lug nut torque specs lets you ensure that your wheels are securely in place.