If you want to enjoy your new car, you must also consider the battery that can give it enough power so you can enjoy all its safety and comfort features. This TrueStart battery review – which company makes them and warranty explained will show you if it's the battery that can provide all the power your car needs.
The manufacturer of TrueStart Battery is Johnson Controls. When it comes to longevity, the track record of this battery is excellent. Toyota used Exide batteries for a time during the early 1990s. That was when they started to have warranty problems. So they switched back to TrueStart.
TrueStart batteries' brand is Toyota, so you have to buy them from the parts department of your local Toyota dealership. You can't buy them from regular battery stores, but you can buy them online and pick up the unit in your local Toyota dealer. You can also ask them to ship it to your address.
Read on to learn more about TrueStart batteries, which company makes them, their features, and warranty policy.
TrueStart Battery Review – Who Makes Them?
Johnson Controls Makes Truestart Batteries
The maker of TrueStart is Johnson Controls, a reliable manufacturer of automobile batteries for many carmakers. This battery can provide reliable starting power for their vehicles. But sometime in the early 1990s, Toyota switched to using Exide batteries.
However, Toyota encountered warranty problems with the Exide batteries. They didn't last that long, with some failing even less than a year. This led Toyota to switch back to using TrueStart batteries. These batteries are only available at Toyota dealerships.
Order Online and Pick up at the Local Toyota Dealership
You can't buy them in your local car parts dealerships. But you can order them online and pick them up at your local Toyota dealership. Or you can also have them delivered directly to your address.
Warranty
Every TrueStart Toyota battery has a warranty of 84 months or seven years. Plus, you get 100% free replacement for the first 24 months during this period. To enjoy this TrueStart battery warranty, have a Toyota dealer install it in your car.
You could have the same warranty if you bought a TrueStart battery over the counter with exclusions. After the initial 24 months warranty, the warranty will only cover 50% of the battery's price if you need replacement.
What Is A TrueStart Battery?
Associated with Toyota Cars
TrueStart batteries are directly associated with Toyota cars because it is the car manufacturer that contracted Johnson Controls to make them. So, the actual maker is Johnson controls the orders of Toyota Motor Corporation.
Available on Other Non-Toyota Car Parts Stores
These batteries were initially intended to be used exclusively for Toyota cars. But now, it seems they are available on other non-Toyota car parts stores. That means owners of cars other than Toyota vehicles can also buy and use them.
Made with a Proprietary Lead Alloy
The Toyota TrueStart battery specs are special. TrueStart batteries are made with a proprietary lead alloy resistant to corrosion.
Come with Radial Grids
They also come with matrix radial grids that can support high-power starting requirements. Excellent power flow is also made possible because of the batteries' heavy-duty lugs.
TrueStart Batteries Are AGM Lead-acid Batteries
Your local Toyota dealer also performs regular battery checks and rust removal at their customers' request so that their cars will always run smoothly.
AGM Class Batteries vs Standard Automotive Batteries
TrueStart batteries are all Absorbent Glass Mat (AGM) lead-acid batteries. AGM class batteries are more advantageous compared to standard automotive batteries.
There is no worry that the suspension will leak because the AGM technology has fiberglass mats that hold the battery solution. With this design, the battery has no liquid sloping inside.
AGM batteries are not like traditional batteries that you always need to monitor the water level and top it up if required. That's one of the conveniences with AGM batteries that you can take advantage of. With these batteries, you install them and then forget them.
Why TrueStart Battery Is Used by Toyota Vehicles
Batteries are one of the car parts subjected to a lot of stress. They are forced to withstand extreme humidity and heat and are still expected to provide starting power to the engine.
Why did Toyota trust TrueStart batteries to provide the starting power for their vehicles? Here are some of their reasons:
1. Optimal Operating Properties
TrueStart batteries are designed to operate at the right internal resistance. And this design contributes to its longevity. Note that a car battery operating at its optimum properties will live a longer and healthier life.
2. Advantageous Warranty Offerings
TrueStart batteries come with excellent warranties, making them an excellent buy for car owners:
Free Towing
If the TrueStart battery fails within 24 months of its purchase, you can avail of a free towing service to the nearest Toyota dealer where they can get the battery fixed.
84 Months Warranty
Every TrueStart battery is warrantied for 84 months or seven years. That's a very long time warranty for a battery. The typical warranty period of standard batteries is only 24 months, equivalent to around 36,000 miles.
Prorated Warranty
The warranty for TrueStart batteries is pro-rated. Batteries that are three to seven years old are provided a warranty of 60 months.
Free Battery Replacement for the First 24 Months
If a TrueStart battery fails within the first 24 months, it will be replaced by the Toyota dealer without any charge.
3. Free Battery Tests
Do you know how long the TrueStart battery has been in your car? If you don't, you are running the risk of getting stranded in the middle of nowhere if it suddenly conks out. If you want to know its age, you can get it tested at your local Toyota dealership.
The mechanic will use an instrument that can measure the cranking amps and the voltage of a TrueStart battery. From there, they can estimate the remaining time your battery can still function.
It will also tell the mechanic if the battery needs charging or if you have to replace it.
Toyota TrueStart Battery Warranty Explained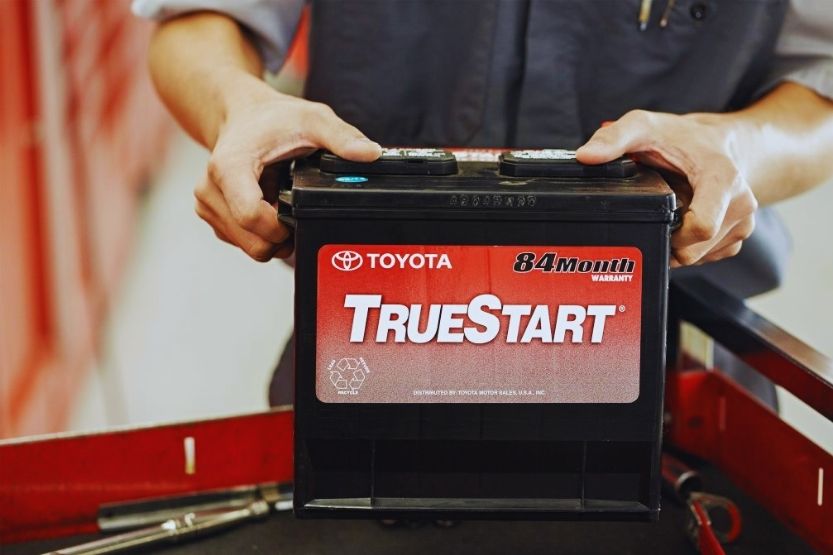 Have a Toyota Dealer Install the Battery
Toyota says that every TrueStart battery has a warranty for 84 months or seven years. The true warranty given to a TrueStart battery is only 24 months. A Toyota dealer should install the battery so you can qualify for this warranty.
Is There a Discrepancy Between the 84 Months and the 24 Months Warranty?
No, there is none. The 24-month warranty allows you to get a replacement if the battery fails within 24 months of its initial purchase.
The 84 months warranty is a pro-rated warranty covering the period after the initial 24-month warranty. This warranty takes effect from the 25th month up to the 84th month. And the warranty is pro-rated at 50%.
It only means that the warranty period continues after the first 24 months, but only at 50% coverage. This is more advantageous to you as a car owner because the warranties of the batteries of other brands are only up to 24 months. There is nothing more after that.
Buy a TrueStart Battery from Authorized Toyota Dealership
If you bought the TrueStart battery in other battery stores, it would also last for the same amount of time. However, the warranty will have some exclusion. So, it is better to buy a TrueStart battery from an authorized Toyota dealership.
The table below will show you a general picture of the warranty given by Toyota to its TrueStart batteries:
| | | |
| --- | --- | --- |
| Installed By | Coverage | Period |
| Authorized Toyota Dealer | 100% replacement and repairs incl. parts and labor | From 1 to 24 months |
| | 50% replacement and repairs for parts only | From 25 to 36 months |
| Over the Counter | 100% replacement and repairs for parts only | From 1 to 24 months |
TrueStart Warranty Exclusions
This Toyota TrueStart warranty does not cover the following:
Batteries that are damaged due to overcharging.
Batteries that have been opened or cracked, frozen, or accidentally dropped and damaged.
Battery failure because of the use of wrong electrolyte.
The warranty coverage of TrueStart batteries is very generous. It includes replacement options for the normal battery wear and tear. It also covers battery parts that are found to be defective.
But be aware that there are warranty exclusions so that you won't be disappointed when you claim the battery warranty from a Toyota dealership.
Again, who makes Truestart batteries? Johnson Controls makes Truestart batteries. Johnson Controls also makes Duralast, Diehards, Energizer, Motorcraft, Everstart, Pep Boys Prostart, etc.
How Long Can a TrueStart Battery Last?
Maintenance-free Batteries
AGM batteries, such as the TrueStart battery, are relatively easy to install. These batteries are nearly maintenance-free batteries, so they are straightforward to use. But let's assume that you have used it carefully and not abused it. How long does a TrueStart battery last?
Can Last from Three to Five Years
According to some reviews, a TrueStart battery will last three to five years. That's assuming that you are taking care of it regularly, such as cleaning its terminals, removing the formation of rusts, etc.
Toyota Prius Batteries
If you are driving a Toyota Prius, you have two batteries to take care of. This Toyota vehicle is different from other Toyota vehicles because it uses two batteries, one is a low voltage battery, and the other is a high voltage battery.
Low-voltage vs High-voltage Battery
The low-voltage battery powers your car's electrical devices. It is the same as the regular ones used in conventional cars.
On the other hand, the high-voltage battery powers the hybrid powertrain. It is made of a special nickel-metal hydride with a potential lifespan of about 150,000 miles.
Special Warranty Policy for Toyota Prius Batteries
According to some battery reviews, the batteries of the Toyota Prius are given a special warranty policy. Toyota gives a basic warranty for the vehicle, 36 months, together with a 5-year or 60,000-mile coverage for its power train.
In California, the Prius battery warranty is 150,000 miles or about ten years. But in other states, it is eight years or 100,000 miles. If your Toyota Prius batteries fail within these time and mileage frames, you are entitled to their replacements for free.
How to Extend the Life of a TrueStart Battery
There's a reason why I have enumerated the exclusions to the warranty of TrueStart batteries. If you want to take full advantage of the battery warranty, you should avoid these exclusions.
Additionally, you may want to take good care of your TrueStart battery. It is one way of extending its life. How do you take care of your TrueStart battery? Here are some suggestions:
Be sure that you have turned off all the car lights and electrical devices before you park and leave your Toyota car for the day.
Test your battery regularly. This will enable you to spot developing problems before they get serious.
Always examine your battery for the presence of rusts. Remove them soon as you see them forming. This will limit corrosion of the battery and its parts.
Avoid making short trips regularly.
Don't use the car electronics too much while the car engine is idling.
Frequently Asked Questions
If you want to know more about TrueStart batteries, their warranties, how long they can last, and other related stuff, please read the following frequently asked questions:
Who Makes TrueStart Batteries?
Toyota Motor Corporation can be considered the maker of TrueStart batteries since it is the battery brand carried and sold by Toyota dealerships around the country.
In reality, Johnson Controls, the well-known manufacturer of dependable automobile batteries, manufactures TrueStart batteries.
Toyota uses the manufacturing skills and capacities of Johnson Controls to produce TrueStart batteries.
Perhaps they have used this business arrangement to have an "exclusive" right to use TrueStart batteries for their vehicles. Toyota also allows the selling of these batteries at other car parts stores.
What Is the Warranty of a TrueStart Battery?
Overall, every TrueStart battery is given a warranty of 84 months- a 2-year warranty, then the warranty for the battery's 25th-36th month.
During the first 24 months of the battery, you can replace it for manufacturing defects. But you must buy the battery from authorized Toyota dealerships. Otherwise, your battery warranty will have some exclusions.
Your battery will still have some warranty from the succeeding 25th month to the 36th month, but only at 50% coverage.
Who Is Johnson Controls?
Johnson Controls is the company that manufactures OEM batteries. TrueStart is an OEM battery made by Johnson Controls for Toyota Motor Corporation. Johnson Control has a track record of manufacturing batteries that offer very long service lives.
Are TrueStart batteries AGM batteries?
TrueStart batteries are classified as AGM batteries. They are different from conventional batteries in that instead of using liquid electrolytes, the electrolyte in AGM batteries is in the form of an absorbent glass mat.
That's why they are called AGMs. There is no problem with leaking or spilling battery liquid in such batteries.
How Long Will a TrueStart Battery Last?
If you don't abuse a TrueStart battery, it will provide your car with three to five years of service life. You can extend its life even more if you take good care of it and do not abuse it.
Are TrueStart batteries good?
Generally, TrueStart batteries can serve the electrical needs of your car, such as its starting power and sustained use of its electrical devices.
The warranty that Toyota gives to these batteries indicates its confidence that they can satisfy the needs of Toyota vehicles. Its guarantee is more than what other standard batteries offer, so they must be good.
Are TrueStart batteries Worth the Money?
Given the extended warranty given by Toyota to TrueStart batteries, they are undoubtedly worth every penny. They will last long as long as you don't abuse them and take proper care of them. You will be able to get your money's worth if you buy a TrueStart battery for your Toyota car.
Conclusion: TrueStart Battery Review
Johnson Controls is the maker of TrueStart batteries. The track record of these batteries in terms of longevity is excellent. For a while, Toyota shifted to Exide batteries during the early 1990s. However, due to warranty problems of Exide batteries, Toyota switched back to TrueStart.
These batteries are Toyota branded. As such, they are not usually available in your local car parts stores. The best place to buy them is from a Toyota dealership in your local area. These batteries are also available online. You can request Toyota to deliver the battery directly to your address.
Read next:
Super Start Battery Review – Who Makes Them and Warranty Explained
NAPA Legend Battery Review and Warranty Explained
Who Makes Interstate Batteries [Interstate Battery Review]
Who Makes Duralast Batteries? [Duralast Battery Review]