Valvoline is one of the most popular automotive service brands in the world. You can even find it has a lot of service centers throughout the country. If you plan to take your vehicle to a Valvoline service center, you must be wondering how much it costs. This article aims to have Valvoline services prices explained to give you an idea.
Valvoline service centers provide various services, including oil changes to fuel injector cleaning. As for the prices, expect to pay anywhere between $14.99 (wiper blades) to $169.99 (automatic transmission fluid exchange).
One might think that Valvoline service prices are quite steep. However, they are still competitive, especially when compared to other commercial car service centers. If you're looking for quality car maintenance services, expect Valvoline to provide you with just what you are looking for.
Read on to learn more about the prices of Valvoline services, from oil changes to air conditioning system cleaning and more.
Valvoline Service Prices Explained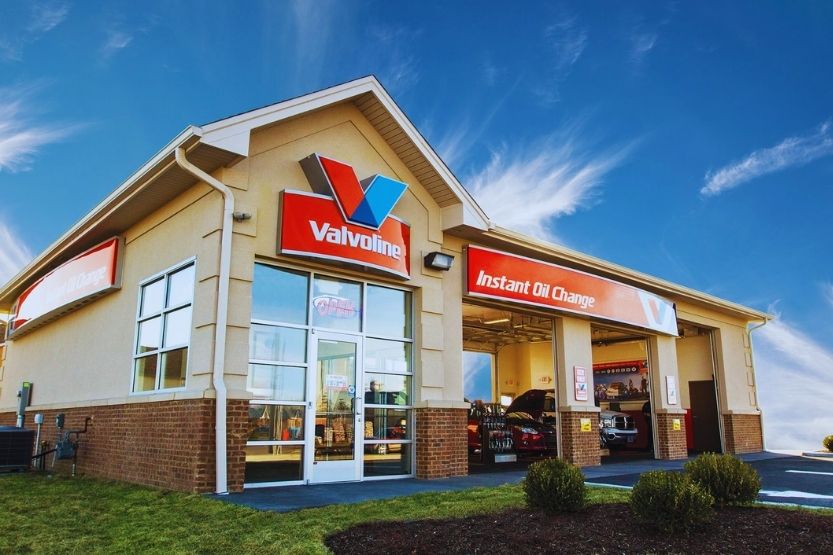 You can avail of a wide variety of automotive maintenance services from any Valvoline service center. Essentially, you can find every service required to keep your precious vehicle running smoothly and safely in all Valvoline centers.
The services that you can expect from the Valvoline service center include:
1. Safety
Battery Replacement – $134.99
Replacing the Serpentine Belt – $112
Tire Rotation – $29.99
Replacing Broken Lights – $12.99
Replacement Wiper Blades – $14.99
2. System and Fluids
Differential or Transfer Case Maintenance – $67
Power Steering System Maintenance – $89.99
Radiator Maintenance – $124.99
Transmission Services (AT) – $169.99
Transmission Services (MT) – $112
3. Efficiency
Air Conditioning Checkup – $34.99
Air Conditioning Repairs or Maintenance – $157
Air filter Replacement – $29.99
Cabin Air Filter Replacement – $44.99
Complete Fuel System Flushing – $89.99
Fuel Filter Replacement – $79.99
Fuel Injection System Cleaning – $22
4. Oil Change
Valvoline Conventional – $42
MaxLife Synthetic Blend – $63
Full Synthetic with Maxlife Technology – $85
Premium Blue Diesel – $67
Premium Blue Extreme Full Synthetic – $90
You can avail of these services in any Valvoline service centers near you. However, expect to pay a premium price for all of them compared to how much your local mechanic's garage charges.
On that note, Valvoline's prices are competitive if you compare them with other commercial service centers. These include Jiffy Lube and Pep Boys. Also, there's just something about having a brand-name service center deal with your car's maintenance. It is like you have more peace of mind after Valvoline serviced your car.
Again, what are the usual Valvoline service prices? Valvoline provides oil change, fuel injector cleaning, and more. The said services range from $14.99 for wiper blades to $169.99 for automatic transmission fluid exchange.
You can learn more about Valvoline prices here: How Much Is an Oil Change at Valvoline?
Why Are Valvoline's Services So Expensive Compared to Local Garages?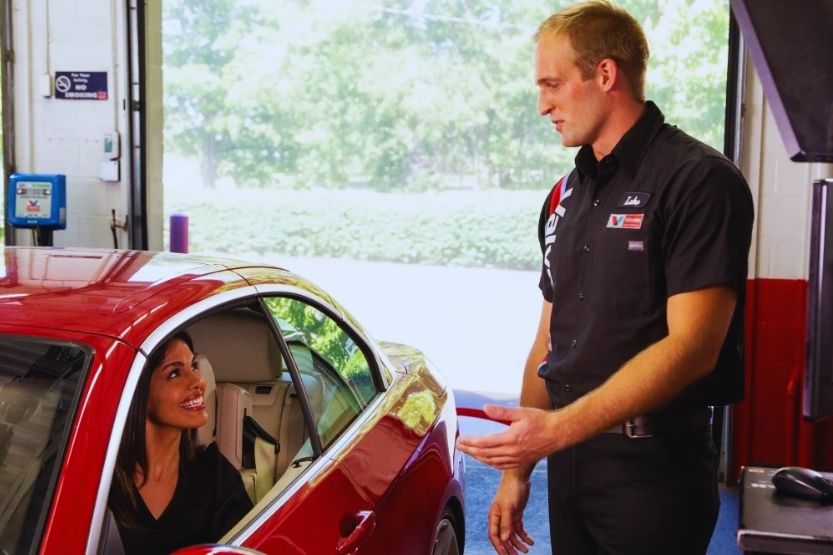 Why do you have to pay higher prices to have your car serviced at Valvoline compared to regular garages? Undeniably, Valvoline branding is significantly more expensive compared to no-name products.
Here are some of the reasons why this is so:
1. Customers Pay for the Brand
Famous for Quality Motor Oils and Lubricants
Even if you are not a hardcore car enthusiast, you are probably familiar with the Valvoline brand. The company is most famous for its quality motor oils and lubricants. Even without trying them out, most people would agree that it is of superior quality compared to other brands.
Valvoline also continues marketing its products as higher quality than others. They do that to make their brand's reputation remain intact. Also, because of their fierce marketing, many people would readily take their word that they are the best.
High Quality Products
Although many people know that this is just a marketing ploy by companies, Valvoline products are indeed high quality. Meaning people trust the brand name more than another brand they haven't heard from before. This is true even if they are of comparable quality.
People have always trusted the Valvoline brand since it has been in the business for more than a century. Their thinking is that it did not last this long for no reason. So, people know that they are getting a quality product and service from Valvoline. In other words, they have no problem paying the high price for Valvoline.
2. Valvoline's Marketing
Valvoline Pay for Marketing to Stand Out
Even a company as large as Valvoline still needs to pay for marketing. If the brand wants to stand out and above the competition, its staff will need to market themselves better. Doing so will cost a lot of money.
Valvoline spends a ton of money on marketing like other consumer product brands. This is so they can continue reminding people that theirs is still the best brand. This leads to increased spending within the organization.
Customers Pay for Marketing Expenses
For Valvoline to remain profitable, the company will pass on a portion of this expense to the customer. When paying for Valvoline products and services, you also pay a small portion of their quite huge marketing expenses.
Multinational companies the size of Valvoline need to market their products quite heavily. This is unlike smaller brands that only need to market locally. This is the reason why you would often see no-name brands on store shelves selling for way less than Valvoline. Small companies have lower overhead costs to pass on to their consumers.
3. Customers Are Willing to Pay Valvoline's Prices
A company as large and well-known as Valvoline may charge more for its products and services. They sometimes do so because they know their customers are willing to pay.
Let's look at a kid's lemon stand as an example. A kid sets up a lemonade stand in front of her house. She initially priced her product at $1 per glass. Because of the steep price, people don't want to buy her lemonade. She lowers her price to 75c, and her neighbors start buying.
Meanwhile, another kid from two blocks down is selling her lemonade for 25c a cup. She does so without realizing that she could sell for much higher.
Valvoline found the price point where their loyal customers are still comfortable to pay. They know that people would still pay for their products and services' asking price. This means that they do not need to lower their profit margin.
People will not feel that there is anything wrong with paying top dollar for a product they think is high-quality. This brings us to the next point of discussion: people's perception of quality.
See our post on whether Pep Boys is expensive or not.
4. Perception of Quality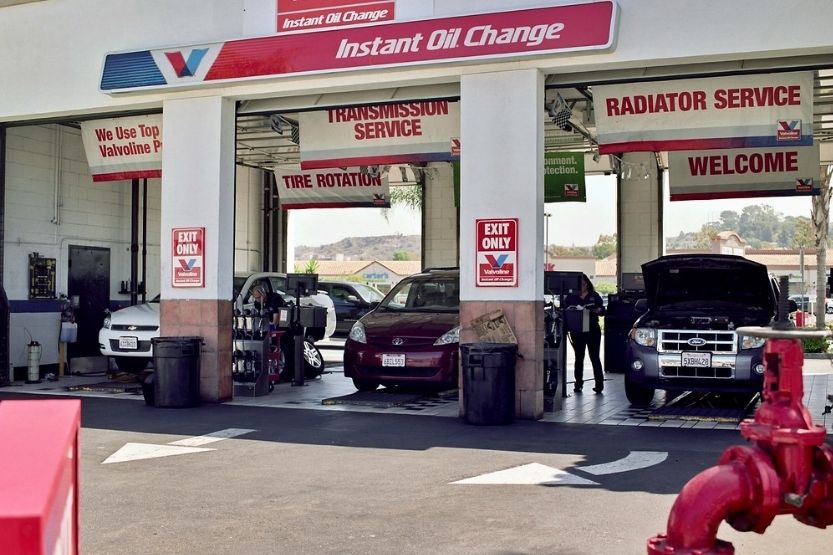 Valvoline's Packaging, Cleanliness, and More
It might be the design of Valvoline's packaging or the cleanliness and orderliness of their service centers. But almost everyone can agree that Valvoline provides high-quality products. It might be true that other, lesser-known brands work the same. However, you cannot shake the thought in your head that Valvoline is still better.
Long-standing Reputation
The company worked hard to attain its long-standing reputation. Valvoline earned the respect of the public because it continuously produces good quality products and services. The brand would not have grown as big if it had provided sub-par products.
5. Valvoline's Competition with Other Brands
You might think that having a lot of competition would drive Valvoline to lower its prices. However, that is not how business works. As mentioned earlier, people are not necessarily inclined to purchase products or avail services just because they are cheaper.
People Associate Lower Prices with Low Quality
Lower prices do not always inspire confidence in people. Most even associate lower prices with low quality. If given a choice between Valvoline and a much cheaper, no-name brand, you will most likely choose the former over the latter.
If you're driving a $40,000 car that requires an oil change, you will take it somewhere quite expensive. You will be willing to pay high provided the quality of their products and work has already been proven.
People are not willing to gamble the health of their beloved cars on relatively unknown automotive brands. Valvoline is not exactly affordable, but people still prefer using it over most other brands.
Valvoline Conducts Research
Valvoline invests in research. They always make assessments and adjustments in their marketing to maintain their lead over other companies. Aside from ensuring they always produce top-quality products, they also ramp up their marketing. That way, people will still think that theirs is the best.
If you study the prices of Valvoline's products and services, you will find that they fluctuate a bit. However, they would never lower their costs to match their weakest competition. Valvoline would like their prices to remain the same as much as possible unless a drastic shift in the marketplace forces them to lower them.
Conclusion – Valvoline Services Prices Explained
Although Valvoline is primarily known for its motor oils and lubricants, it also provides other products and services. You can access those in their many service centers all over the country. However, don't expect their prices to be the same as your local mechanic's garage.
Expect to pay between $14.99 for changing wiper blades to $169.99 for a fully automatic transmission fluid change.
If you are used to the much lower local garages' prices, you might find Valvoline's service prices quite steep. However, if you compare them with other commercial automotive service centers, they seem competitive.
The thing with Valvoline's services is that you are paying for the convenience. The reason is that there are lots of Valvoline service stations all over the country. You are also paying for the quality that comes with the prestigious brand. There is just something about having your car serviced in Valvoline compared to a small garage. It seems that you get more peace of mind afterward.
Related reading:
How Much Is a Take 5 Oil Change?
How Much Is a Walmart Oil Change?