Volvos are known for being very safe cars, but does this mean their maintenance is more expensive? How much does annual Volvo maintenance cost?
The estimated annual Volvo maintenance cost is around $800. The estimated cost of both Volvo repair and maintenance ranges between $80 and $8,600. The average maintenance cost is $260. However, the repair of damaged parts varies based on location, age, shop, model, and mileage.
So, are Volvos expensive to maintain? Yes, Volvos are luxury cars, and their spare parts and servicing are expensive. For example, an oil change price is usually between $70 and $129, and a Volvo used engine is $1,200 to $1,800 – excluding labor, which is about $800 or more. This cost could bore a hole in your pocket.
Read on to learn more about the estimated Volvo maintenance cost and other related information.
Volvo Maintenance Cost
The estimated annual maintenance cost of a Volvo is approximately $800. The cost ranges between $80 and $8,600. The average maintenance cost is around $260. [1]
Many consumers consider the Volvo expensive to maintain, but its maintenance cost is cheaper than most luxury brands, such as BMW, Cadillac, and Mercedes Benz.
The maintenance cost of about $800 annually is reasonable as the Volvo was acclaimed as one of the safest cars worldwide. In 2017, the Insurance Institute for Highway Safety (IIHS) recognized the SUV Volvo XC90 as the "Safest Car in the World."
Reportedly, Volvo's maintenance may be expensive, but the vehicles are rarely damaged, averaging only 0.6 times a year on repairs. What's more, there was only 6 percent of major repairs, which is a lot less than that of other brands, which is more than 10 percent.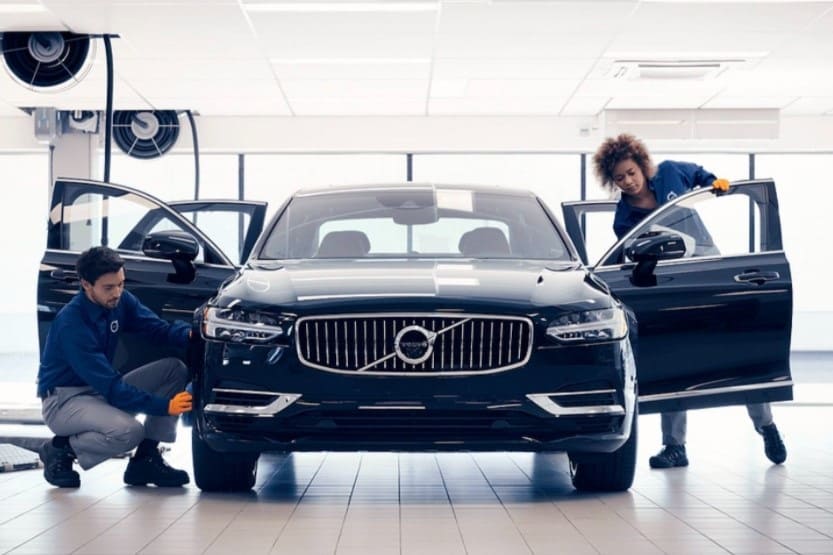 How Much Does a Volvo Maintenance Cost?
To save on Volvo maintenance costs, you can opt for capped price servicing plans where the maintenance cost is included in your Volvo's purchase price. Some packages include service maintenance for 3 years, 4 years, or 5 years, depending on the Volvo's model. These bundles could save you a considerable chunk of money on maintenance costs.
Volvo also offers a Volvo Lifetime Warranty for parts replacement and labor. Therefore, you don't have to spend tons of money on maintenance costs if you opted for this package.
Authorized Volvo dealers will regularly replace certain parts of your car that are subject to wear and tear. But these parts are not included in the lifetime warranty. This would depend on the Volvo dealer where you purchased your car.
Volvo Parts Included in Lifetime Warranty
Upholstery
Tires (depends on manufacturer's warranty)
Rotors (excluding runout types)
Bulbs
Filters
Fuses
Rugs and floor mats
Batteries (with remote keyless access)
Brake pads
Wiper blades
Clutch lining
What Are the Most Reliable Volvo Models and Their Maintenance Cost?
These Volvo models are the most reliable and the cheapest in the market. They are even less expensive when you buy them as used cars.
1. Volvo C30 T5 Maintenance Cost
The maintenance of a Volvo C30 T5 is approximately $550. The cost would depend on your car dealer or service provider. And the maintenance cost can increase as your Volvo ages. The price of this car is about $25,000 to $25,500.
2. Volvo 700/900 Maintenance Cost
The average annual cost for a Volvo 700/900 repair is approximately $769. Again, the exact cost would depend on various factors, as previously mentioned. The price of this car is about $25,000 to $30,000.
3. Volvo S60 Maintenance Cost
The estimated Volvo s60 maintenance cost can be between $80 and $4500, with an average price of $300. A fuel filter replacement can cost about $130 to $190. The car sells from $36,000 and up.
4. Volvo XC90 Maintenance Cost
The approximate Volvo XC90 maintenance cost is between $80 and $9,000, with an average price of $300. A fuel filter replacement can cost about $130 to $190. The car is worth $40,000 and up.
5. Volvo 850/V70/C70/S70 T5 Maintenance Cost
The estimated cost to repair and maintain a Volvo C79 is between $80 and $2,000, with an average of $300. A fuel filter replacement can also cost about $150 to $200. The car's price is $28,000 to $34,000.
Estimated Costs for Some Volvo Repairs
Your Mechanic has estimated some of the specific repair costs of Volvos:
Repair of differential/rear oil replacement for a 2010 Volvo V70 = $146.95
Cabin air filter replacement for a 2009 Volvo XC90 = $121.41
Fuel injector replacement for a 2007 Volvo C30 = $6,691.46
Manifold Absolute Pressure (MAP) replacement for a 2004 Volvo S80 = $381.57
Front crankshaft seal replacement for a 2003 Volvo V70 = $913.47
The Volvo model will, of course, affect the repair cost. So, your maintenance and repair costs could vary from one model to another.
Are Volvos Expensive to Maintain?
Yes, they are expensive to maintain because they are luxury cars. But if you stick diligently to the factory maintenance schedule, you may find it less costly to maintain. The reason is that Volvos are made of heavy-duty, durable parts that can withstand wear and tear longer than other car brands.
You can also take advantage of various budget plans to reduce the cost of your car's maintenance. It's all a matter of using the offers at your disposal and playing it smart as a Volvo car owner. Refer to the tips mentioned below to cut costs on your Volvo's maintenance and repair.
Why Are Used Volvos Selling so Cheap in the U.S.?
Used Volvos are somewhat cheap in the U.S. because their repair and parts are expensive. One of the reasons may be because not many companies are building Volvo spare parts. According to some consumers, Volvos do not hold their value. But the 2020 Volvo XC40 has been predicted to hold its value, with the Volvo V90 winning a Residual Value Award in 2019.
Volvo was initially built in Sweden, but today, Volvo is now owned by Geely, a Chinese automotive company. Volvo still has headquarters in Sweden and Belgium, but China plays a significant role now.
The trade war between the USA and China may also have something to do with the rarity of Volvo's spare parts production. This presumption is not a fact, but it could be one of the reasons.
There is an American Volvo factory in South Carolina; however, some Americans would instead buy from Japan than from a predominantly China-owned product.
We have discussed the details of the estimated Volvo maintenance cost. Let us now proceed to tips on how to reduce your Volvo maintenance cost.
Tips on How to Save on Volvo Maintenance Cost
Even though Volvo's maintenance costs are quite expensive, they are durable and are not often repaired. So the other standard cars may even cost more because of frequent repairs and parts replacement. Nonetheless, here are some ways to save on your Volvo's maintenance cost.
1. Find a Package That Includes Maintenance Cost
Many Volvo car dealers include the maintenance of some parts when you purchase a Volvo. Look for these packages before buying your car. Choose the more extended warranty that provides for most of the expensive parts.
2. Take Advantage of Volvo Prepaid Maintenance Plans
Through this plan, you can save up to 20-25 percent in maintenance costs when your car has a mileage of 50,000 miles or 100,000 miles. The plans are not affected by inflation, and you can fully transfer the plan to the next owner – if you want to sell your Volvo. It's a win-win situation.
Some plans provide a free inspection after 7,500 to 10,000 miles and many more additional perks. Flexible plans ensure that you can benefit from all the discounts after your complimentary factory-scheduled maintenance plan. You could choose the plan that suits your car model.
Watch out for those expensive dealership promos, though. You have to read the conditions carefully before signing up. There may be hidden charges you would contend with in the future.
3. Do Your Own Maintenance
You could learn more about Volvo and do your own maintenance at home. Some repairs are simple that you can do yourself. Save on your maintenance cost by doing all the labor. The labor cost in motor shops can even be costlier than the spare parts you want to replace.
But if it's significant damage, do not attempt to do it yourself unless you have had a competent experience. As the cliché goes, "little knowledge is dangerous." You may further damage the vehicle instead of repairing it.
4. Use the Company's Maintenance Program
Volvo usually offers a factory-scheduled maintenance program as a complimentary service. You can take your Volvo for three complimentary maintenance services after 36,000 miles or use the service for three years, whichever comes first.
You may want to refer to your owner's manual or inquire directly from the company about these schedules.
5. Stick to the Scheduled Maintenance
When you stick to the scheduled maintenance, your Volvo will stay reliable for a long time. Volvos do not suddenly break down for major repairs if you stick to your scheduled maintenance.
Regular inspection of the major parts, such as the steering mechanism, brakes, and suspension, would detect any minor damages that need repair. This process will prevent major repairs due to undetected or neglected parts, saving you hundreds of dollars.
6. Drive Your Car Conscientiously
There's no better way to cut maintenance costs than taking care of your car correctly. Your vehicle may be a machine, but it also needs to rest. Do not overtax your vehicle by continuously driving long distances for several consecutive days. Your physical health may suffer too. So, rest with your car at night, and you can continue going the next day again.
Although most consumers attest that the Volvo can withstand long hours of driving, you still have to slow it down.
7. Comply with the Regular Oil Changes
Always stick to your Volvo's regular oil changes. If you do so, you can expect a longer lifespan of your vehicle without going through costly major repairs. This task may seem insignificant, but it is one of the essential maintenance tasks that ensure your car lives longer. So, you must perform this task diligently.
8. Do Not Skimp on Minor Repairs
Attend to minor repairs quickly and do not skimp. You would be saving big money from major repairs later on. Consider a minor repair in your car as a tear in your clothing. If you don't attend to it swiftly, that small tear will become more prominent until it tears off a whole chunk of your clothing.
Volvo may be made of durable parts, but these parts are still subject to wear and tear. So, you have to maintain them properly.
Conclusion – Are Volvos Expensive to Maintain?
Volvos are expensive to maintain compared to many other vehicle brands. The annual Volvo maintenance cost is around $800. For both repair and maintenance, you may spend between $80 and $8,600, with an average of $260.
Your Volvo maintenance cost will also depend on several factors, such as location, shop, age, model, and mileage.
If you're planning to buy a Volvo, consider the model too. They are one of the safest cars in the world. According to Thatcham Research, it is the safest car, as "nobody has ever died in a Volvo XC90". Even though this report is in the U.K., it is still fantastic how safe the Volvo car can be.
This 2020, Volvo has promised "death-proof" cars to ensure no one gets killed even during car collisions or accidents involving Volvo cars. This promise is quite daunting, and consumers would surely want to find out later if Volvo has fulfilled its promise.
Nevertheless, they could also be one of the most expensive cars to maintain and repair. But you can cut maintenance costs by following the tips given above. You can ensure your safety and still keep your luxury car the cheapest way possible.
Related reading:
Are Volvos Expensive to Repair? [Volvo Repair Costs]
Is It Worth Buying a Used Lexus or Other Luxury Car?
Walmart Tire Installation Cost [How Much Do They Charge?]