The options for car batteries are many, but one of the most popular is Duralast. It has been in the business for a long time and has built a reputation for its high-quality products. Do you know who makes Duralast batteries? 
Duralast batteries are made by:
Johnson Controls
East Penn
Exide
While AutoZone sells and distributes Duralast batteries to end customers, they are manufactured by different companies. Duralast batteries pack the most innovative technologies to deliver superior performance and longevity regardless of the maker.
Read on to learn more about who makes Duralast batteries. We'll also share reviews about their products, so you can have an idea of what to expect.
Who Makes Duralast Batteries?
There are many speculations about the maker of Duralast batteries, but the consensus is that different companies make it. AutoZone sells them, but they are from various manufacturers, including the following:
1. Johnson Controls
Biggest Automotive Battery Recycler and Supplier
Johnson Controls claims that the company is the biggest automotive battery recycler and supplier. It is an American-Irish multinational institution with over 2,000 locations on six continents. The company is a merger between Johnson Controls and Tyco International.
For more than 135 years, the company has remained a force rivaling the industrial machinery manufacturing market. 
Made Huge Investments to Expand Its Global Presence
Johnson Controls has made huge investments to expand its global presence through the years. In 2017, it invested over $450 million to meet the changing demands of its customers. The company has built additional facilities in key locations, including Ohio and Delaware, to ensure a seamless supply of its products. 
Johnson Controls Products and Solutions
Aside from Duralast car batteries, Johnson Controls also offers the following products and solutions:
Heating, ventilation, and air conditioning equipment
Building and automation controls
Fire detection and suppression
Oil and gas
Industrial refrigeration
Residential and smart home
Distributed energy storage
2. East Penn
Private and Family-owned Business
When it comes to car batteries, East Penn is one name that is sure to ring a bell. It is a private and family-owned business with the world's largest lead battery manufacturing facility in a single site. The company has four main divisions:
Transportation
Motive power
Reserve power
Wire and cable
Recognized As Amongst the Best Places to Work in Pennsylvania
Aside from manufacturing Duralast batteries, East Penn is also known for its company culture, making it a popular employer. Since 2000, it has been recognized as amongst the Best Places to Work in Pennsylvania 19 times.
Offer Complete Power Solutions for Light to Heavy-duty Vehicles
East Penn automotive batteries offer complete power solutions for light to heavy-duty vehicles. Like Johnson Controls, their batteries are found across most retailers in the country, so you won't have a problem buying one.
3. Exide
Delivers Innovative Packaged Power Solutions
While it isn't as popular as Johnson Controls and East Penn, Exide is another reliable maker of Duralast batteries. It is amongst the largest manufacturers of car batteries in India. For more than a century, the company has delivered innovative packaged power solutions for individual and industrial applications.
Cheaper Than Other Batteries
One of the most significant selling points of Exide is its price. The low cost of labor in India is one of the reasons why it is typically cheaper than the batteries from North America. Despite being economical, however, their batteries do not compromise quality so that you can expect the best bang for the buck.
Features of Duralast Batteries
Duralast is an excellent brand because its batteries have a long list of innovative features, making them stand out. The specific features will depend on the type of Duralast battery that you will use. Below are some things that make them a cut above the rest:
1. Exclusive Carbon Additives
Duralast uses proprietary technology in its batteries. They contain carbon additives responsible for faster recharge while also extending their lifespan. With this, their batteries are reliable even in challenging conditions, unlike others that are easily prone to damage, such as upon exposure to harsh temperatures.
2. High-quality Grid and Plate Construction
With the state-of-the-art construction of the grids and plates of Duralast batteries, expect that they will withstand the test of time. They are not easily prone to rust and corrosion. It also gives them a longer charge cycle than most of its competitors. To add, they also have a fully-framed grid to enhance voltage.
3. Large Reserve Capacity
The reserve capacity is one of the most important technical specifications for automotive batteries. It refers to how long a fully charged battery can sustain a load. Duralast batteries are known for their high reserve capacity. The latter makes them reliable even in demanding applications.
4. Industry-leading Warranty
Depending on the specific model or type of the Duralast battery that you will buy, it comes with a two or three-year warranty. If you encounter any problem, the manufacturer or seller will extend a helping hand. It can provide you with peace of mind knowing that the batteries are covered for a long time.
Again, who makes Duralast Batteries? In 2019, Johnson Controls, the manufacturer of DieHard, Duralast, Varta, AC Delco, and 20 other brands, sold their battery division to Clarios, LLC.
Duralast Battery Reviews
Now that you know who makes Duralast car batteries, we'll list down some of their most popular products:
1. Duralast Battery
Most Basic Automotive Duralast Battery
This is the most basic automotive battery from the Duralast line. If you are on a budget, this is a great option. It is great for city cars or vehicles for daily drives. However, because it is the most economical, it does not have the same top-notch features that you will find in its higher-end counterparts.
Built to Last Even with Long-term Exposure to Vibrations
With Duralast Battery, you can restore your vehicle's reserve capacity and cold cranking amps. It has a tough polypropylene case that can withstand impact and extreme environments. This battery is built to last even with long-term exposure to vibrations during your trips.
Comes with a Two-year Warranty
It is also great in terms of safety because of its state-of-the-art vents. More so, it comes with a standard two-year warranty.
2. Duralast Gold Battery
Comes with a Three-year Replacement Warranty
One of the most popular products from the company, the Duralast Gold battery, comes with a three-year replacement warranty. Hence, you can be confident that it won't fail. If it experiences any problem, get in touch with the manufacturer or seller, and they will extend a helping hand.
Cannot Be Damaged by Rust
Aside from the exceptional warranty, we also love this battery because of its tough construction. From the interior to the exterior, it uses superior materials. Rust and corrosion won't damage the battery over time. Additionally, it has a high-density paste, which is instrumental in its cycling performance. 
Perfect for Heavy-duty Applications
It also excels because it has more lead plates than conventional batteries, perfect for heavy-duty applications. If your car has a demanding infotainment system and other electrical components, this battery is sure to keep up.
Low Self-discharge
The low self-discharge is another good reason to choose this automotive battery. When going on long drives, you do not have to worry that the battery will die in the middle of the road. Plus, it allows the battery to last for up to five years.
Does Not Have an Absorbent Glass Mat (AGM) Technology
Nonetheless, one drawback is that it does not have absorbent glass mat (AGM) technology. This means that it can be quite demanding in care and maintenance. Plus, it may not also do well in extremely cold places.
3. Duralast Platinum EFB Battery
Modern Version of the Traditional Flooded Battery
If you have a power-hungry vehicle, this is an incredible option for an automotive battery. This modern version of the traditional flooded battery is ideal for more demanding uses. It is built to enhance cycle life and charge acceptance.
Has Innovative Features
The battery has innovative features that make it compatible with running some of today's vehicles' most modern features. From heated seats to cruise control, it ensures the smooth functioning of your vehicle's modern features.
Exclusive Carbon Additive
In terms of performance, one of the best features is the exclusive carbon additive. The latter is responsible for recharging faster and increasing the battery life.
Three-year Warranty
Lastly, it has an industry-leading three-year warranty. The latter shows how confident the manufacturer is of the battery's longevity, which is possible with its vibration-resistant frame.
4. Duralast Platinum AGM Battery
Durable and Reliable
The manufacturer claims that this is not your average battery. Indeed, it is different from many competitors because of its durability and reliability.
Maintenance-free Design
One of the best things about this automotive battery is its maintenance-free design. It has a non-spill and leakproof body. It also has excellent vibration resistance, which is compatible even with vehicles that run on rugged terrains.
Two Times Better Cycle Life Than Traditional Batteries
Additionally, it has advanced technology that provides up to two times better cycle life than traditional batteries.
Expensive
Nonetheless, as an AGM automotive battery, it also has several shortcomings. One of the most common issues is that it is expensive but justifiable. Also, some might not like its sensitivity to high voltages and overcharging, so you should be cautious in its use to prevent premature wear.
FAQs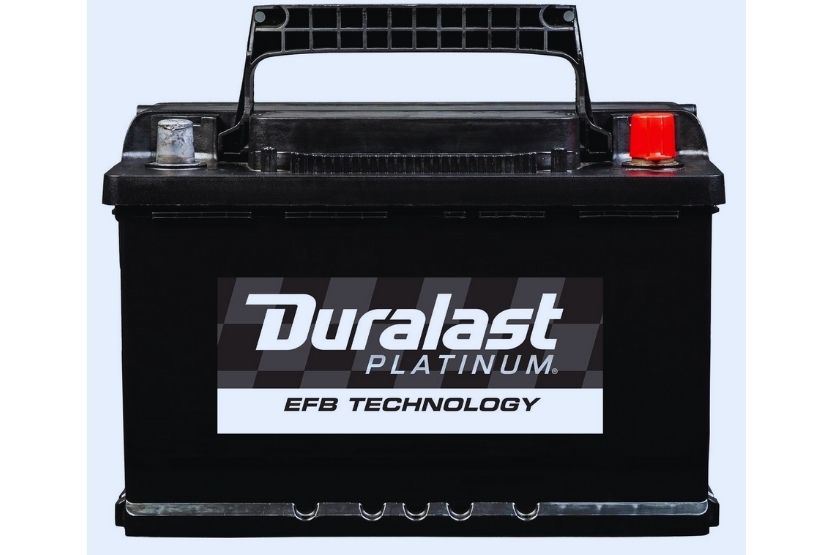 Where Are Duralast Batteries Made?
Duralast batteries are made in different countries, depending on the manufacturer. Most of them are made in the United States. These batteries are popular because of their superior performance. Nonetheless, if you are on a budget, you will also find cheaper Duralast batteries made in India.
How Long Do Duralast Batteries Last?
The lifespan of Duralast batteries depends on several factors, such as the specific type and the extent of use. On average, you can expect them to last three to five years. To last a long time, pay attention to proper care and maintenance.
Is Duralast a Good Brand?
Duralast is a good brand of car batteries. It has wide-scale applications depending on the type that you will choose. They are also known for their vibration-resistant construction, even in extreme terrains. Plus, many of them are affordable without compromising performance.
How Do You Maintain Duralast Batteries?
The maintenance of Duralast batteries is the same as the maintenance of other car batteries. Keep it in a secure position to minimize the impacts of rugged terrains.
You should also limit short rides and prevent using electronics when the engine is idling. You should clean the terminals with baking soda and water to minimize rust and corrosion. 
Conclusion: Who Makes Duralast Batteries?
Johnson Controls, East Penn, and Exide make the Duralast batteries. The first two companies have manufacturing facilities in North America, and the last one has a production plant in India. AutoZone distributes these batteries to end-users.
While you will find different batteries from Duralast, they are famous for one thing – reliability. You can expect exceptional performance in different conditions, from standard to premium batteries. They are built using tough materials and pack the latest battery technologies to ensure long-lasting power.
Read next: