Yamaha introduced the Majesty YP400 line to the public around 2003, bringing the first wave of maxi-scooters to hit the road during that time.
The Yamaha Majesty 400 scooter is the perfect companion for inner-city dwellers. With its large compartment and a low center of gravity, the Majesty is comfortable, easy to ride, and has great mileage. It is perfect for cruising through inner-city streets.
Read on to learn more about the Yamaha Majesty 400 (YP400) and its key features and specs.
About the Yamaha Majesty Scooter 400
The Yamaha Majesty 400 is the go-to companion for inner-city dwellers. It has a large compartment and a low center of gravity, making it easy to ride.
The Yamaha Majesty 400 was first introduced to the US market in mid-2004, although it has been in international markets the year before.
The Majesty was continuously sold in North America until 2014 (with a one-year hiatus in 2011), except in Canada, where it ran up until 2015 before Yamaha completely dropped it from its vehicle lineup.
Yamaha offered different Majesty variants, ranging in displacements from 125cc to 400cc, with the YP400 (400cc) being the only one offered in North America.
When it first came out, the Majesty went on sale for around $6850, which was quite competitive but was still in the same price range as larger 500cc scooters from Piaggio and Kymco. However, it did have a bit more sense of refinement compared to its larger brethren.
Yamaha Majesty 400 Specs and Features
1. Motor
The Yamaha Majesty 400 is powered by a 395cc, four-valve DOHC, liquid-cooled engine. It can pump out about 33.5hp. The motor is fed using a suction-type EFI, which allows for a quicker throttle response. The good thing about it is that it is also low-maintenance.
Moreover, it has a 3.7-gallon capacity fuel tank that allows the Majesty to travel a total of 185 miles (based on 50 mpg consumption).
2. Transmission
The Majesty delivers power to the rear wheel using a double-cog V-belt automatic constantly variable transmission (CVT). The transmission on this maxi-scooter runs so smooth that you would not even notice when it shifts gears.
With that, you can expect the Majesty to become a true twist-and-go machine.
3. Chassis and Suspension
As with most maxi-scooters, the Yamaha Majesty has a long wheelbase, 61.6 inches to be exact. This provides more than enough legroom even for taller riders. It also helps improve the handling.
The chassis has a step-through, backbone-style frame made from steel and aluminum alloy. It allows easy mounting/dismounting while still being strong and lightweight.
The rear suspension has a pair of adjustable long-travel coil-over shocks, providing the rider with smooth cruising through city streets. Pair that with 14" front and 13" rear wheels, and you will hardly notice the bumps.
4. Brakes
Large 267mm diameter hydraulic disc brakes allow the Majesty to stop on a dime but still give you enough control so you will not fishtail. It comes with a very convenient parking brake mounted on the left handlebar too.
Also, certain models from 2013 and up come with ABS for added handling and safety.
5. Ignition
The Majesty is equipped with an automatic decompression system. With that, you have an assurance that the electric ignition can easily fire up the engine even when it is cold outside.
6. Instrument Panel
The Yamaha Majesty has a large instrument panel with two built-in analog gauges for the speedometer and the tachometer. A large backlit LCD screen in the center shows the fuel gauge, engine temperature, trip meter, and odometer.
7. Storage
The main storage space underneath the seats has a large 16-gallon capacity. It provides more than enough space for a helmet and a regular-sized bag. There is even more storage space for small items in the front apron, which you can use for storing your phone, wallet, and other miscellaneous stuff.
8. Safety Features
A passenger grab rail integrated into the rear bodywork, which you can use in those instances when holding around your waist, seems a bit awkward. The YP400 Majesty also comes with a side stand safety switch that prevents you from riding the scooter with the side stand down.
Below is an excellent Yamaha Majesty 400 review, including a detailed look at its specs:
Yamaha Majesty 400 Top Speed
The Yamaha Majesty 400's top speed is about 90mph. This scooter is not a speedster, nor does it claim to be. It has a 395cc engine, which can produce a respectable 33.5hp.
Considering the total weight of the bike and the weight of the rider and passenger, you can probably push the Yamaha Majesty 400 to a top speed of around 90mph. This speed is well above the limits on US highways.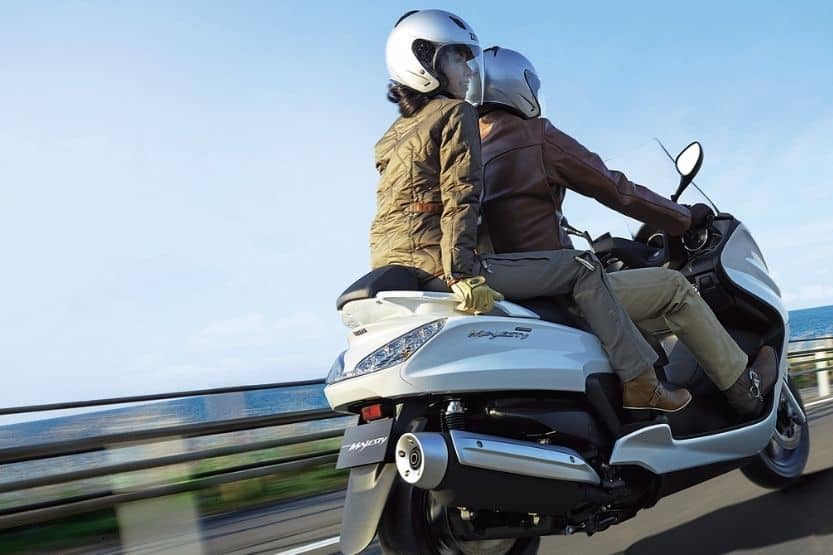 The long wheelbase and low center of gravity of the Majesty make its handle like a cruising bike. With that, it provides an ideal ride even for beginners, despite its rather wide turning radius.
The large brake rotors also provide the Majesty with more than enough stopping power. Moreover, the later models sported dual disc brakes and ABS; thus, providing the rider with even more control without compromising braking performance.
Why Yamaha Majesty Owners Love This Scooter?
To say that the Yamaha Majesty 400 scooter achieved cult status is an understatement. In fact, the Majesty clubs are numbering in the thousands just in the US alone. There is something about this scooter that resonates with many riders, both young and old.
The Yamaha Majesty 400 sits closer to the ground. Thus, even if you're not that tall, reaching the pavement while at a stoplight is still quite easy. It is different from the Burgman that needs you to stand on your tip-toes to keep the bike upright.
If you visit any online forum talking about this particular bike, you'll discover that most of them are fairly active. This is kind of surprising considering that the model has been discontinued for almost 7 years now.
Moreover, you can still find that there are still many companies that make Majesty's aftermarket parts. Even the first edition ones.
The Yamaha Majesty 400 is highly recommended, especially by people who own one or two of them. Aside from being highly reliable, they are also low-maintenance. If you do need to work on yours, you will find that parts are readily available.
Pros and Cons of the Yamaha Majesty 400
The Yamaha Majesty may be an awesome scooter, but it does have its share of problems as well. But let's first start with what made this bike great. The Majesty has a lot of neat conveniences that make using it a joy.
Pros
Comes with a 3-in-1 Ignition System
With the turn of a key, not only can you kill the engine, but it will also lock the front fork. Twisting it further will unlock the main storage compartment as well.
Large Seat
Another nice thing about the Majesty is the large "King and Queen" seat. If you are going on an interstate trip, you can bring along a companion while still having more than enough space behind the rider.
Gives a Very Comfortable Ride
The front and rear shocks have a lot of travel, so they can really absorb quite a lot of bumps in the road. The seats are also a good size and nicely padded. Moreover, the seats are positioned forward just right that you will not be straining your back even on longer rides.
Impressive Fuel Mileage
The Majesty boasts a very respectable 50mpg fuel consumption, so you will not be making that many fuels stop if you will be on a long bike trip or using it on your daily commute. Do keep in mind, though, that your mileage may vary.
Great Braking Performance
The inclusion of front and rear disc brakes (some models have ABS) provides the Majesty with incredible stopping power, even when it is laden with two passengers. Moreover, Majesty's design gives it a low center of gravity, making it easy to ride, even for beginners.
Low Maintenance
The Yamaha Majesty is a very reliable scooter. If you don't push it too much, you will realize that even after 20k on the odometer, you might not need to replace parts at all. The pistons and the valves are also solidly built. If you take care of it, the Majesty will take care of you for a long time.
Cons
1. The Air Filters Get Dirty Often
The dual air filters of the Yamaha Majesty are just behind the bike's front wheel, making it prone to getting dirty. This would not be too much of a problem if the air filters were easy to access.
As it is, you will need to remove a panel to gain access to it, doing a job that should only take minutes into a chore that could last an hour. The fact that it is not that easily accessible is also an inconvenience since the air filters need constant inspection and regular replacement.
2. Not Wide Enough Seat Compartment
Although the Yamaha Majesty boasts a large 16-gallon storage compartment, filling it can be a problem since the seat does not rise high enough to fit anything larger than a helmet inside.
3. Side Mirrors Are Set Too Close
Another issue that you might encounter, especially if you are a bit on the taller and wider side, is that the side mirrors are too close. You will need to get side mirror extensions or a pair of side mirrors that have longer stalks; otherwise, you will be looking at your shoulders most of the time.
4. Too Short Windscreen
It will not help you too much if you are above 6' tall. The reason is that the factory windscreen is just too short to help prevent the wind from hitting you in the face while you ride.
Cost of Maintenance for the YP400
If you will be having your Yamaha Majesty serviced by a professional garage, except that the initial cost would be around $150 to $250. The steep price is that you will need to remove several panels before reaching the engine parts.
However, if you have the right tools (which you can readily purchase online nowadays), you can do the maintenance work yourself and save a lot of money.
You will find many YouTube videos and documentation on how to fix the common issues of the Yamaha Majesty, and it usually only requires the use of simple tools that you may already have in your toolbox.
Yamaha Majesty 400 vs. Suzuki Burgman 400
The Majesty and the Burgman are almost indistinguishable from each other, so much that if you park them side-by-side, most people would think that they are the same model. Therefore, many people are torn over which one they should buy.
The Majesty and the Burgman, technically speaking, use almost identical engines and share many characteristics, so most of the differences come from ergonomics and styling.
For instance, the Majesty's seat is wider and positioned higher on the bike, while the one on the Burgman has a backrest that is placed to push the rider forward.
Moreover, the handrail on the Burgman is notched deeper than the Majesty. However, the Majesty has a slightly bigger storage compartment.
In terms of popularity, there are significantly more Burgman owners than there are Majesty, and this might stem from pricing and availability, as there are minor reasons why you should pick one over the other.
Conclusion – Yamaha Majesty
The Yamaha Majesty is a scooter that is truly worth its namesake. It provides the rider with the utmost comfort and is easy to handle and maneuver even in tight city streets. Aside from that, it has a respectable gas mileage because it is a maxi scooter.
Although the Majesty has been discontinued since 2015, you can find many used ones in online marketplaces right now, so you can still get your hands on one of the best scooters to roll down city streets worldwide.
Related reading:
Yamaha C3 Scooter Specs and Review
Honda Spree Scooter Review and Specs
Do You Need a Motorcycle License to Drive a Scooter?
Moped Vs Scooter [What Are the Differences Between Them?]