Have you been considering getting a Yamaha XT225 motorcycle? If yes, let me tell you that it's all worth it, especially if you're a beginner. In this Yamaha XT225 review, I'll list all the specs and features to decide if it is the right motorcycle for you.
The Yamaha XT225 motorcycle is one of the best bikes released by Yamaha. It is great for off-road riding and touring. Produced between 1986 and 2007, Yamaha describes it as its first modern, full-sized dual sport bike ideal for new riders.
Read on to learn more about the Yamaha XT225, its features, and overall performance.
About the Yamaha XT225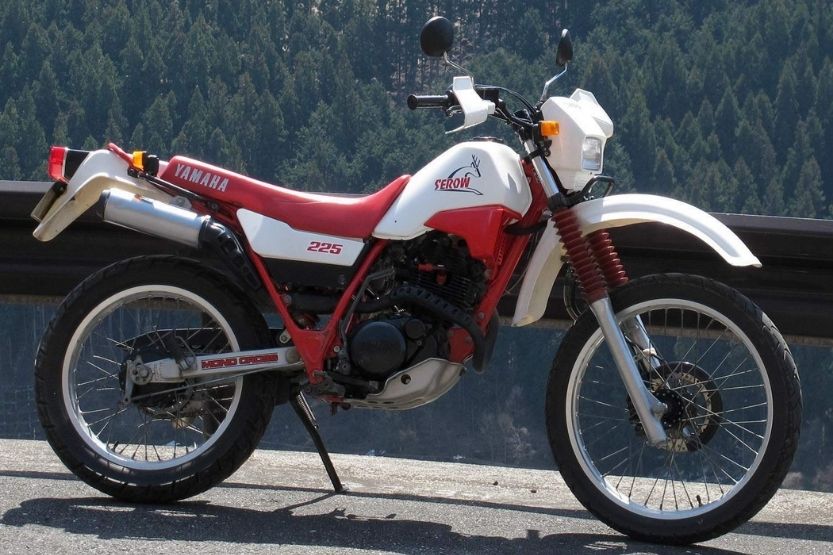 The Yamaha XT225 bike is one of the best motorcycles released by Yamaha. It is perfect for both off-road riding and touring. Produced from 1996 to 2007, Yamaha describes the XT225 as its first modern, full-sized dual sport bike ideal for new riders.
This Yamaha product is an air-cooled, single overhead camshaft (SOHC), 4-stroke single Enduro bike. The top speed is 84 mph or 135 km/h, while its maximum torque is 11.8 lb-ft at 6,500 RPM. Its claimed horsepower measures 19.98 hp at 800 rpm.
Yamaha XT225 Specs
Let's take a look at its specs according to the following:
Engine
Drive
Chassis
1. Engine
The engine of the Yamaha XT225 is an air-cooled, SOHC 4-stroke single-engine. Its bore and stroke measure 71.1 mm, resulting in a displacement of 223 cubic centimeters (cc). Fuel supply is through SOHC.
2. Drive
This bike features a 6-speed manual transmission. Its power is moderated using the wet multi-disc.
3. Chassis
Its front tire measures 2.75-21, while its rear tire measures 120/80-18.
As for the brakes, stopping is achieved with a front disc measuring 220 mm. At the same time, there is also a drum in the rear measuring 110 mm.
In terms of its front suspension, it features a Telescopic air-adjustable fork measuring 36 mm. Its travel measures 8.9 inches. As for the rear suspension, it features an adjustable link monocross.
When it comes to the fuel capacity of this bike, it is 2.3 gallons or 8.70 liters. In terms of weight, this bike measures 238.1 lbs or 108 kgs. As for its wheelbase, it measures 53.11 inches or 1,349 mm in length.
List of Yamaha XT225 Specs
Here is a list of the Yamaha XT225 specs for easy reference:
Model: Yamaha XT225 or Yamaha Serow
Production: 1986 – 2007
Successor: Yamaha XT250
Class: Dual sport
Engine: 223 ccs, single-cylinder, air-cooled, four-stroke, SOHC, 2 valves
Compression Ratio: 9.5:1
Power: 20 hp or 15 kW
Torque: 19 N-m or 14 lb-ft
Transmission: 6 speed
Front Suspension: Telescopic
Rear Suspension: Swingarm with rebound adjust
Front Brakes: 220 mm disc
Rear Brakes: 110 mm drum
Front Tires: 21 inches
Rear Tires: 18 inches
Wheelbase: 53.1 inches or 1,349 mm
Dimensions in Inches: 81.5 in length x 31.7 in width x 45.7 in height
Dimensions in Millimeters: 2,070 in length x 805 in width x 1,161 in height
Seat Height: 31.9 inches or 810 mm
Weight: 238 lbs or 108 kg
Fuel Capacity: 2.3 U.S. gallons or 8.7 liters
Full Specs of the Yamaha WR250X
Yamaha XT225 Models Through the Years
The production of the Yamaha XT225 motorcycle began in 1986, and the last time that Yamaha was released was in 2007. This explains why Yamaha released quite a several XT225 models and units during that period.
Let's take a look at several Yamaha XT225 models:
1. 2000 Yamaha XT225
Similar to the Yamaha XT350, this model provides dual-sport convenience. It has a usable 6-speed transmission matched with a 223 cc air-cooled SOHC single-engine. These features allow the rider to control the bike conveniently. It doesn't even matter if the bike's operating on a single-track path or asphalt.
The front suspension of this bike is air adjustable. At the same time, the rear features a preload/rebound adjustable mono-shock. These enable quick setups when there's a need to switch riding surfaces.
At the same time, its clearance of 11 inches and its aluminum skid plate delivers impressive obstacle-tackling capabilities.
2. 2001 Yamaha XT225 Serow
The 2001 Yamaha XT225 Serow is low weight and easy to maneuver, which is pretty much similar to the previous model. It features adjustable suspensions, which makes it fun to use on and off the road.
In terms of engine, it features a 223 cc, air-cooled, 4 stroke mill. It produces 20 hp and 19 Nm. This power is, in fact, impressive for a bike that only weighs 108 kg.
This bike is street legal. It can be used as an economical commuter. At the same time, you can enjoy using it as an off-road machine. Whether you use it on unsealed paths or paved roads, the 2001 Yamaha XT225 Serow is indeed one reliable bike.
3. 2002 Yamaha XT225 Serow
The blue, white, and black finish generally look similar to the previous XT225 models.
This model has a low seat. If you're a beginner, the seat effectively reassures you that there's nothing to worry about. In fact, a short person with little or no experience in biking will surely appreciate using this bike too.
Another thing that's great about this is that it's economical. It is fuel-efficient and has a cheap maintenance cost.
4. 2003 Yamaha XT225
If you are interested in a low-profile motorcycle yet fun to use, check out the 2003 Yamaha XT225 bike. Despite being small and lightweight, it is nonetheless impressively versatile. It is perfect not only for daily commuting. But it is ideal for dual-purpose riding too.
It doesn't matter if you ride on the asphalt or you tread some fire roads. This bike is capable of tackling rough terrain.
This bike is one solid machine. With its silver and black finish, it sure is one handsome modern classic bike.
5. 2004 Yamaha XT225
The 2004 Yamaha XT225 model looks pretty much the same as the previous model.
Its seat is fairly low, and the ground clearance is adequate. Its transmission delivers fast rides on the road. At the same time, its low-end torque allows more power for rough roads.
Similar to the previous models, this is quick but will not provide you with a World Superbike performance. Suffice to say that it's something you can use for daily commuting or when running errands. At the same time, it's something you can also use when you want some adventure with your fellow bikers.
6. 2005 Yamaha XT225
With the 2005 model, Yamaha continues the XT225 legacy of being a fun bike to ride and cheap to own. It is an impressive economic machine. People love it for its dual-purpose nature and its excellent terrain ability.
This bike is ideal for both adults and young bikers.
7. 2006 Yamaha XT225
With the 2006 model, Yamaha brings back the blue, white, and black finish. But this time, it seems that all the previous XT225 external characteristics have been combined in this model. The outcome is, in fact, impressive.
8. 2007 Yamaha XT225
The 2007 model is lightweight, it is exceedingly maneuverable, and it is impressively tough as nails. Indeed, it is an authentic dual-sport bike from Yamaha.
Its slender profile allows it to deliver higher-speed rides and is capable of tackling rough roads. The all-rigged construction of this bike assures that it can take abuse and still deliver a powerful performance.
Again, what does the Yamaha XT225 offer? The Yamaha XT225 was produced between 1986 to 2007. Riders find it great for off-road riding and touring. New riders will also benefit from this modern, full-sized dual sportbike.
Pros and Cons of the Yamaha XT225
Let's list down some of the pros and cons of owning a Yamaha XT225:
Pros
Delightful bike to ride whether on the trail or on the road
Lightweight
Can be easily maneuvered even in a steep trail terrain
Features a heavy duty skid plate
Capable of cruising safely on the highway
Headlight's beam illuminates roughly 20 feet to either side of the road
Cons
Difficulty in starting the motor
Diaphragm has a tendency to crack
Engine performance is rough
Weak stock spokes
Common Problems with the Yamaha XT225
Here are the 5 common issues encountered by XT225 riders:
Difficulty in Starting the Motor
Engine Performance Is Rough
Weak Stock Spokes
Diaphragm Has a Tendency to Crack
Oil Filter Mix-up
1. Difficulty in Starting the Motor
There are several reasons why some XT225 riders encounter this issue. One of which is the fact that this bike is carburated and not electronically fuel injected. Carbureted motorcycles are known for their starting issues. This is particularly true during cold weather or when it hasn't been used for a long period of time.
The second reason is if your XT225 has a defective fuel pump. If this is the case, you will definitely find it a challenge to start the motor. The third reason is if your bike has faulty spark plugs. Worn-out spark plugs are common, and your bike will most likely not start until you replace the plugs.
Other reasons why you might find it difficult to start the motor are the following:
Faulty electrical components
Bad throttle position sensor
Leaks on the air intake system
Worn out ignition coils
2. Engine Performance Is Rough
A common reason why engine performance becomes rough is because of engine surging. This occurs when the RPMs decrease and increase despite a steady throttle. The fluctuation in speed will most likely result in lurching and jerking.
Another reason for rough engine performance is engine bogging. Engine bogging occurs when the motorcycle hesitates under acceleration. This is, in fact, not only common in XT225. It commonly occurs in all types of motorcycles.
3. Weak Stock Spokes
There are two common types of wheels in the world of motorcycling. These are the cast alloy wheels and the wire-spoked wheels.
Between the two, the spoke wheels are the more tolerant ones when used on abusive terrains. That's why some riders prefer spoke wheels. XT225 engineers favored the spoke wheels too.
However, riders are claiming that the spoke wheels of the XT225 are weak. They claim that it causes the wheels to wobble, affecting their biking experience.
If you encounter this, the best way to address this is to replace the spokes with stronger variants.
4. Diaphragm Has a Tendency to Crack
In case your XT225's diaphragm or rubber boot cracks, it will cause the engine to wheeze. It will also most likely result in poor engine performance.
If you want to check if there is a crack on the diaphragm, you can try spraying WD-40 around the area. In case your XT225 starts to rev higher, then the diaphragm most likely has a crack.
To resolve this issue, you can apply a sealant on minor cracks. But in case it has major damage, you might have to replace the entire rubber boot or diaphragm.
5. Oil Filter Mix-up
Some riders say that since the oil filters of the XT225 and the XT250 look similar, they are sometimes used interchangeably.
Both oil filters fit accurately on either bike, allowing riders to assume that they can be used interchangeably. But the truth is, they are far from being interchangeable. So, if you use an XT250 oil filter in your XT225, you will most likely encounter a performance issue.
Conclusion – Yamaha XT225 Specs and Review
The Yamaha XT225 motorcycle is one of the best bikes released by Yamaha. It is ideal for off-road riding and touring. Produced between 1986 and 2007, Yamaha describes it as its first modern, full-sized dual sport bike ideal for new riders.
It's a great bike to use in the streets or on the highway. It's ideal for daily commuting and, at the same time, you can use it for off-road riding. Its size and all other features are ideal for beginners. But even seasoned riders will surely appreciate its features.
Some riders find issues on their XT225 bikes, but those issues can easily be remedied.
Overall, getting a Yamaha XT225 bike will be all worth it.
Related reading:
Yamaha FZ-09 Specs and Reviews