Michelin is an unrivaled global tire brand. Aside from its high-quality products, the company is also popular for standing behind each tire through its warranty program. With the Michelin tire warranty, you can buy with confidence!
A Michelin tire comes with a limited mileage warranty. It is covered against defects in workmanship of its usable tread life for 20,000 to 90,000 miles or within six years, whichever comes first. This tread life varies depending on the specific tire model. You can also enjoy a 60-day satisfaction guarantee and three-year roadside assistance with an eligible purchase.
Read on to learn more about the Michelin tire warranty, including how it works and its coverage.
What Is the Michelin Tire Warranty?
Michelin Offers Excellent Warranty Coverage
As one of the leading tire manufacturers globally, Michelin is a well-loved brand.
They offer excellent warranty coverage to encourage people to buy their tires and demonstrate their commitment to manufacturing exceptional products. Looking at it can convince you to choose Michelin over many of its competitors.
Limited Mileage Warranty Covers Defects in Craftsmanship and Treadwear
You will enjoy a limited mileage warranty when you purchase a Michelin tire. This warranty is one of several Michelin Promise Plan components.
Also, a limited mileage warranty covers defects in craftsmanship and treadwear. You can use this plan for normal service.
Original Michelin replacement tires are covered against defects in workmanship and materials during their original usable tread life or within six years, whichever comes first. After such, the warranty expires.
Mileage Coverage Depends on the Type of Tire
The specific mileage that the warranty covers will depend on the particular type of tire that you will purchase. For example, Michelin HydroEdge, an all-season tire for passenger cars and mini-vans, covers 90,000 miles.
If the usable tread life expires before reaching the specified mileage, you will receive a credit that you can use for buying new tires at Michelin.
What Does the Michelin Tire Warranty Cover?
The coverage of the warranty depends on what happens to the tire and the duration between when it was purchased and when a problem has been apparent:
1. Workmanship and Material
Usable Tread
You need to understand the life of the usable tread, which is the basis of the warranty coverage. Michelin defines such as "the original tread is worn down evenly across the face of the tread to the level of the tread wear indicators." Technically, it is 2/32nds of an inch or 1.6mm of remaining tread.
Tread Wear Requirement Required for a Tire Replacement
If the tread wear is 2/32 inches less than the original and within one year from purchase, Michelin will issue a tire replacement. Aside from this, you will also receive the free mounting and balancing to ensure optimal performance of the new tires. You will cover any other charges and taxes.
Tire Replacement on a Pro-rata Basis
On the other hand, if 2/32nd inch of the original tread has been worn and it has been 12 months since the date of purchase, the company will replace the tires on a pro-rata basis.
Under this agreement, the computation relies on the current price of the tire and the percentage of the original usable tread worn. Meanwhile, you will shoulder the cost of mounting, balancing, taxes, and other charges.
2. Treadwear
Tire Replacement on a Pro-rata Basis
If the Michelin tire is under warranty and when there is even wear across its face before reaching the warranted mileage, you will receive a comparable tire on a pro-rata basis.
They will use a pre-determined formula to compute how much of the cost you will shoulder. Meanwhile, you are responsible for paying mounting and balancing, including other charges.
Conditions
However, take note that Michelin will provide a replacement only if you meet the following conditions:
You are the one who purchased the tires, you are the owner of the vehicle at which the tires are installed initially, and the Michelin tires were used only on such vehicles.
The tires have been inspected and rotated based on a pre-determined mileage, which should be a part of routine maintenance.
You can present the original invoice, original Owner/Tire Installation Information Form, and Service Record form.
The tires are not unserviceable because of a condition stated below under what is not covered.
What Is Not Covered by Michelin Tire Warranty
It is frustrating to file a Michelin tire warranty claim only to learn that you are ineligible for a replacement or credit. To avoid such, you must know what the warranty does not cover.
Michelin Tire Limited Warranty Does Not Cover Abused Tires and More
The Michelin Tire Limited Warranty does not cover damage arising from accident, abuse, and misuse, including the following:
Road hazards, including impact damage, punctures, bruises, and snags
Imbalance, improper repair, or incorrect installation
Under-inflation or over-inflation
Wear due to a vehicle's mechanical irregularity, such as wheel misalignment
Accident or fire
Vandalism or tire alteration
Improper tire storage
Addition of solid, gas, or liquid other than carbon dioxide, nitrogen, and air
Using tires in such a way that is inconsistent with the maintenance and safety information provided in the manual
Limitations of the Michelin Tire Warranty
Aside from those mentioned above, here are other limitations of the Michelin tire warranty that you should be aware of:
The treadwear warranty is invalid if you do not follow Michelin's recommendations for tire rotation
Tires used for commercial operations, such as ride-sharing vehicles or cabs, are not covered by the warranty
Competition tires, such as Michelin Pilot Sport Cup 2, are also excluded from the warranty
Winter tires should be only used in the winter to qualify for the warranty
The treadwear warranty only applies if you are the original buyer
How to Get a Tire Replacement
If you would like to avail of the Michelin tire warranty, the process is straightforward. Bring it to a registered retailer. Aside from the tire, below are other requirements you must present:
Vehicle where the tire is installed
Identification card
Vehicle registration
Filled Service Record and Original Owner/Tire Installation Information forms
The original invoice or copy of the manual
If applying for treadwear replacement, bring proof of tire rotation and inspection.
Payment, if necessary
Other Services Offered by Michelin Tire
A limited mileage warranty is just one of the three main components of the Michelin Promise Plan. Below, we'll talk about the other two, which can convince you that Michelin tires are indeed some of the best that you will find in the market:
60-Day Satisfaction Guarantee
Michelin is confident in the quality of its tires. They believe in their products, so they offer a 60-day satisfaction guarantee.
You have 60 days to try the tires purchased from Michelin. At any point, if you are unhappy in any way, let them know. Bring the original tire and the original receipt to the store where you brought the tire. They will change the tire to a new one with the same or less value.
3-Year Roadside Assistance
Enables You to Save Money
Your purchase of a Michelin tire makes you eligible for free assistance on the road for three years starting from the day you bought the product. Enjoy complimentary service for your peace of mind while also saving money in the long run.
Flat-tire Change Out
One of the many things that you can enjoy is flat-tire change out. A qualified professional will help change your flat tire to an inflated spare at no additional cost.
Free Towing
Meanwhile, Michelin provides free towing to the nearest retailer if you have no spare. Nonetheless, it is capped at a distance of 150 miles. Charges apply after such.
Fluid Delivery
Another service that you can enjoy is fluid delivery, including gas and water. However, take note that the company will cover only the delivery. You will shoulder the cost of the fluid itself.
Free Battery Jumpstart
Your purchase also makes you eligible for a free battery jumpstart. No one wants to have a dead battery, especially when feeling helpless. Call their customer support, and you can expect someone to extend a helping hand.
Available 24/7 in the United States and Canada
The best thing is that the three-year road assistance is available 24/7 in both the United States and Canada. If you need help, you must call 1-888-553-4327 and tell them what service you are looking for.
Again, does Michelin have a tire warranty? Michelin passenger and light truck tires (2011-2017) have a limited mileage warranty. This warranty covers treadwear and a limited warranty covering workmanship and material issues. This warranty is valid for six years or within the tires' usable tread life.
How to File for a Michelin Tire Warranty Claim
If you need to file for a Michelin tire warranty, the process is simple:
Go to a Michelin store with the tire in a vehicle that has been registered.
Make sure to bring supporting documents to prove eligibility for the warranty, such as the sales receipt.
Once you are in the store, an employee will review the documents and look at the tire.
The inspection is crucial to determine if it passes their criteria for replacement or refund in the form of credit.
Once everything is good, then the warranty is processed.
Michelin Tire Warranty at Walmart
Walmart tire warranty is one of the best in the business. It is a distributor of Michelin tires, so they follow the warranty of Michelin as stated above.
Nonetheless, if you want more peace of mind, you should consider availing yourself of the Walmart Tire Warranty. It comes at a cost, but it is worth every dollar in the long term, especially once the Michelin warranty has lapsed.
Road Hazard Warranty for $10 per Tire
For $10 per new tire you purchase at Walmart; you can use their Road Hazard Warranty. It covers the normal wear and tear of Michelin tires and other brands they are carrying.
Road Hazard Warranty Coverage
They will repair your tire due to unforeseen hazards, such as punctures. Nonetheless, such damage should not be a result of negligent driving.
Additionally, the warranty covers flat tire repairs, including leaking valve stems. If it is unrepairable, they will replace the tire. Nonetheless, the tread wear should be less than a predetermined value to qualify for such a benefit.
Lifetime Balance and Rotation Plan for $14 per Tire
You might also want to purchase a lifetime balance and rotation plan, which will help ensure that your tires can deliver optimal performance over time. This will cost $14 per tire.
When you avail of this plan, you can go to Walmart Auto Care Center if you need rotation and balancing throughout the lifetime of your tire.
Michelin Tire Warranty at Costco
Like Walmart, Costco's tire warranty is equally incredible. Your purchase of a Michelin tire at Costco will come with the manufacturer's standard warranty.
Aside from this, you can also avail of Costco's warranty, which will last for five years. Note that this is shorter than what Michelin offers, which is six years, depending on the tire's tread wear.
To qualify for the Costco Michelin tire warranty, you must be the original purchaser, it must have been bought at Costco, and you need to present the original receipt as proof of buying the tire.
If Costco can no longer cover the tire, you can go directly to Michelin. This is because the standard warranty offered by the latter is longer than a year.
Frequently Asked Questions – Warranty of Michelin Tires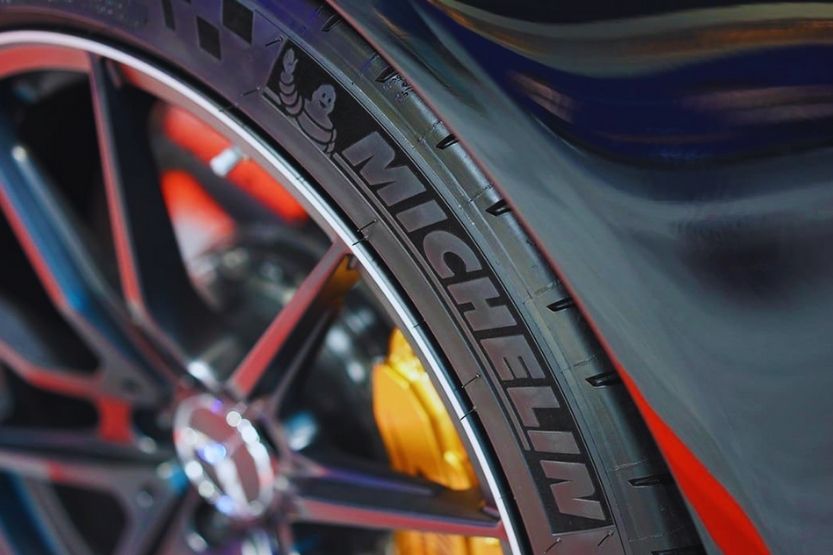 How Long Is the Michelin Tire Warranty?
The Michelin tire warranty lasts 20,000 to 90,000 miles or six years, depending on which one comes first.
The company uses the life of usable tread as a determining factor to identify your eligibility for warranty coverage. You can get a refund, which is given as a credit for purchasing another Michelin tire if you meet the criteria for the warranty.
How Do I Claim My Michelin Tire Warranty?
Visit the nearest dealer if you need to file a warranty claim for your Michelin tire. Someone will review the documents you present, such as the original sales receipt, and look at the tire.
Inspection is necessary to make sure that you are eligible. Once everything has been processed, you will be issued a credit that you can use for your next tire purchase.
Can I File a Michelin Warranty Claim Online?
Unfortunately, Michelin does not support the online filing of warranty claims. They need to review the documents and physically inspect the tires. The latter is crucial to determine tread wear and see if it qualifies under the terms and conditions of the warranty coverage.
Does Michelin Offer a Guarantee of Satisfaction?
Yes, Michelin tires come with a guarantee of satisfaction if you purchase them directly or from a qualified retailer. You have 60 days to try the tires. If you do not like it, you can return it to the dealer. You will receive a new set of tires with the same or lesser value.
How Long Should Michelin Tires Last?
On average, Michelin tires will last five to ten years, making the six-year warranty great. Reaching its fifth year, you will already notice tread wear, but such is still under the company's comprehensive warranty program.
Several factors, such as surface conditions and driving habits, will impact the longevity of Michelin tires.
Which Michelin Tire Has the Best Warranty?
It is important to note that not all mileage warranties of Michelin tires are the same. Among others, one of the best is Michelin Defender. It is covered against treadwear and other defects up to 90,000 miles, providing the best bang for the buck.
What Happens When a Michelin Tire Wears Out Before the Warranty?
If Michelin tires wear out before the mileage promised by the manufacturer, you will receive a replacement on a pro-rata basis.
You will be paying a portion of the price, computed by multiplying the actual selling price with the percent of mileage received. Mounting and balancing expenses are shouldered by the tire owner and taxes and other charges.
Can I Extend the Warranty of Michelin Tires?
You cannot extend the warranty of Michelin tires from the company itself. Nonetheless, you can purchase third-party warranties from companies like Walmart.
For instance, with the latter's Road Hazard Warranty, you can enjoy free tire repairs for as low as $10 per tire, as long as the problem is not a result of negligent driving.
In Closing – Michelin Tire Warranty [How It Works and What It Covers]
Buy Michelin tires with confidence. It is covered by a limited mileage warranty that ranges from 20,000 to 90,000 miles (depending on the model of the tire) or within six years, whichever comes first. If it does not meet the life of the usable tread, you will be eligible for a credit for new tires.
Aside from the standard warranty, Michelin tires are also notable because they come with a 60-day satisfaction guarantee.
If you are unhappy within such a period, let them know, and they will replace it with a tire with equal or lesser value. They are also offering three-year road assistance, including flat-tire change out and fluid delivery.