They say that Costco is a tire store that consistently delivers one of the best buying experiences for customers. In this article, I'll discuss Costco tire prices – how much are four tires at Costco? Is it cheaper?
According to a buyer, a Michelin Defender LTX tire at Costco is around $186.49. Adding the installation fee ($15 per tire) and service fee ($2.99), the total cost for four tires is $817.92. This price does not include tax.
A recent survey conducted by Consumer Reports indicated that Costco is not the cheapest tire store. However, according to the survey, Costco's prices are still competitive. Its customer satisfaction is also high, the survey said.
Read on to learn more about Costco's tire prices and if they are cheaper than other tire stores.
Costco Tire Prices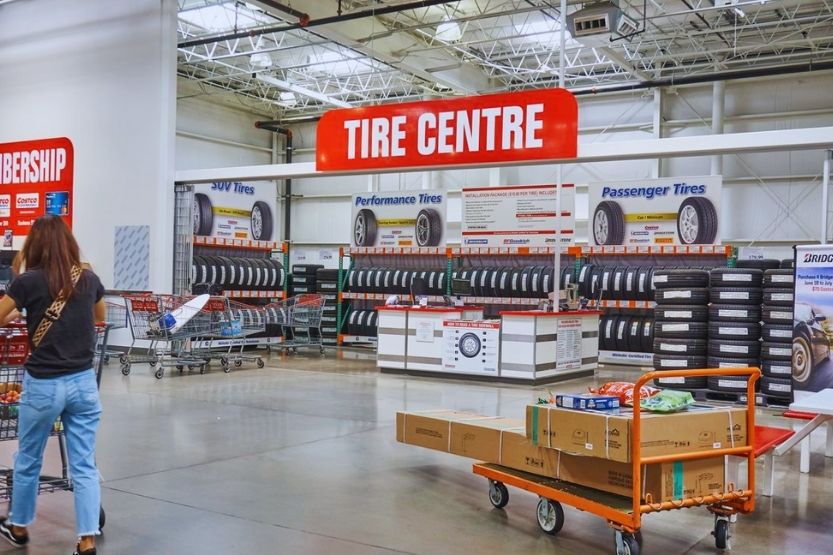 Based on the experience of a customer who bought four Michelin Costco tires, the cost of a new Michelin Defender LTX tire is $186.49.
The installation fee they paid for each tire is $15. There is an additional service fee of $2.99. So, all in all, the cost of four Michelin Defender LTX tires is $817.92. This total amount does not include the taxes yet.
Not the Cheapest in the Market
A recent Consumer Reports survey found out that the prices of tires at Costco are not the cheapest in the market. However, this survey also found out that customer satisfaction at Costco remains high.
Costco Offers Special Discount
Perhaps this is due to Costco's special discount coupons offering their tire buyers from time to time. For instance, Costco offers a $70 coupon for four Michelin tires. This is very attractive to buyers looking to get more for their dollars.
Of course, Costco's coupons are not exclusively for Costco Michelin tires. They also offer coupons for the other tire brands, such as:
Pirelli,
Goodyear, and
BF Goodrich.
You also need to be a club member to take advantage of their tire deals.
Costco offers a certain discount to selected tire brands from time to time. They give $70 to $80 discounts at different times of the year.
Are Costco Tires Cheaper Than Walmart?
Prices of tires at Costco are higher than at Walmart. But their prices are still generally lower than other popular tire stores.
Costco Has 558 Stores Across the Country
The warehouse stores of Costco are huge. They occupy large spaces at almost all the 558 stores of Costco across the country. Costco's warehouse stores sell tires and offer automotive tire services in their service garages adjacent to their stores.
How Much Are Tires at Costco?
Across the board, the prices of tires at Costco, including Costco winter tire prices, are consistently lower than other tire stores.
2015 Subaru Outback 2.5i Limited Tires
How much are four Costco tires? Let's take the example of the tires for Subaru Outback 2.5i Limited year model 2015.
The price of this particular tire at Costco is lower than the price you can get from its competitors. Here is a price comparison that will show you how lower Costco's tire prices are compared to two of its nearest rivals. I am comparing apples to apples now.
We are talking about a particular tire for a 2015 Subaru Outback 2.5i Limited. Its tire size and brand are 225/60R18 and Michelin Primacy A/S.
Each tire will cost you around $785.88 at Costco. Meanwhile, if you buy the same tire at Tire Rack, it will cost you about $790.92 per piece. You can get the same tire at Walmart for $808.08.
So, as you can see, the price of a Michelin Primacy A/S tire with size 225/60R18 is lowest at Costco and highest at Walmart. Of course, this is the situation for this particular tire size. Perhaps, the price could be lowest at Walmart or Tire Rack for some other tire size.
Ass I've mentioned, across the board, the tire prices at Costco, including the Costco Michelin tire prices, are consistently one of the lowest among tire stores and tire suppliers.
Average Cost of Tires at Costco
The average price of four tires at Costco is about $166. This is a bit lower than independent tire retailers sell, $167. In the case of online tire retailers such as Tirebuyer and Amazon, their prices are $147 and $124, respectively.
Though the Amazon and Tirebuyer's prices are lower than Costco's, their prices do not include tire installation and tire balancing. On the other hand, Costco's price includes said tire services. So, Costco's price per set of four tires is more affordable.
Use Costco's Coupons
To some tire buyers, the tire prices of Costco usually beat its competition, mainly if you use the coupons that they offer from time to time. These coupons will enable you to get a discount on one set of tires.
The key is not to be too brand specific. It is better to take advantage of whatever coupon Costco offers when you need tires. This tire store often offers great tire discount coupons for tire brands like:
Michelin,
Bridgestone,
BF Goodrich, and
Goodyear.
M​ichelin Tires prices at Costco are often offered at special discounts. For example, it offers Michelin Costco tires coupons to save $150 if you buy any Michelin tires set (four tires).
Costco will have them available online, and you can print the coupon at home and present it to a local Costco store nearest you. Just present the coupon to the sales clerk, and they will extend to you the promised $150 discount for the set of four Michelin tires you are buying.
Advantages of Buying Tires at Costco
In buying your sets of tires at Costco, you will be able to enjoy certain advantages that you can't get from other tire stores. What are these advantages?
5-Year Road Hazard Warranty
Yes, you've read it right. Every piece of tire that you buy from Costco is provided with a 5-year road hazard warranty. If you buy a tire at Costco, you will enjoy the following benefits for free:
1. Tire Inflation and Pressure Checks
If the TPMS (tire pressure monitoring system) light turns on, you can bring your tire, and Costco tire techs will give it a free inflation and tire pressure check.
2. Flat Tire Repair
If you happen to have a flat tire while driving, bring the tire to the nearest Costco outlet, and they will fix it for free.
3. Tire Rotation
Every time your odometer clocks in 5,000 miles, you can bring your tires to any Costco outlet, and they will rotate your tires for free.
Costco Tire Road Hazard Warranty Exclusions
Be aware that the Costco Tire Road Hazard Warranty has some exclusion. This Costco tire warranty does not cover the following conditions:
Tire Transferred to Another Vehicle
if you transfer the tire to another car, it is not covered. Coverage is only given to tires installed in your vehicle at the time of your purchase.
Damage Tires Due to Certain Situations
The warranty does not cover tires that were damaged due to the following:
Accidents,
Racing,
Off-road use,
Worn car mechanical components,
Vandalism,
Snow chains, and
Commercial use.
Tips on Getting the Best Customer Experience at Costco
While Consumer Reports say that customer satisfaction is high at Costco, you still have a part in making it so. Here are some tips on how you can get the best customer service at Costco:
1. Set an Appointment
To make sure that you will be served promptly, make it a point to set an appointment with the Costco outlet before you go. If you show up to buy a new set of tires at the local Costco outlet and you haven't made an appointment, you will be asked to fall in line, especially on the weekend.
You may be spending from two to three hours there waiting before you are served. A smarter way of doing it is calling first before going there. If that's a hassle, you can choose to set an appointment online.
2. Pay Attention to Costco's Special Deals
Costco is in the habit of offering special deals for their tires a couple of times a year. So, keep an eye on these deals on the news, social media, or Costco's official website.
One of the special deals they like to roll out is the "1 cent Install Deal." Some say that if you take advantage of this deal, you can save up to $60.
3. Fill Your Tires with Nitrogen
Costco also offers exceptional service to their customers to make them repeat customers. Upon your request, their tire tech can fill your tires with nitrogen.
Nitrogen inside your tires helps to stabilize their pressure inside. It prevents their temperature swings, especially in extreme weather conditions.
4. Take Advantage of Free Tire Inflation and Repair
Every time you buy a tire at Costco, it comes with free tire inflation and repair. Always keep this in mind when comparing the tire prices of Costco with other tire stores and suppliers such as Discount Tire.
Again, how much are four tires at Costco? Buying four Michelin Defender LTX tires ($186.49 per tire) at Costco will cost you around $817.92. This price includes the tire installation fee ($15/tire) and the service fee ($2.99).
Why Should You Buy Tires at Costco
Are you still not convinced why you should buy your tires at Costco? If you look at the following reasons, it won't be hard for you to decide that from now on, Costco will be first on my list when you need new tires:
1. Competitive Prices
I've already mentioned the survey conducted by Consumer Reports. While they say that Costco's tire prices may not always be the lowest, their prices are always competitive.
This means if their prices are not the lowest, they are still within striking distance of the lowest prices of their competitors.
Plus, factor in Costco's freebies; the ultimate result is that Costco is still the best price you can get.
Savvy shoppers have enjoyed discounts ranging from $70 to $80 at Costco for different times of the year. Costco also offers installation at only one penny per tire. That could mean a saving of $60, just for that alone.
2. Tire Installation at Costco Is the Best
When they install tires, most garages inflate tires only with compressed air. It's not that way at Costco. Instead of ordinary compressed air, Costco uses nitrogen. When a tire is inflated with nitrogen, the tire pressure is retained over time, better than compressed air.
This directly impacts the tire's life, not to mention its positive effect on the fuel efficiency of your engine. So, this is where Costco is a cut above the rest. But that's not all. Each time Costco installs a tire, their tire tech will also install a new rubber valve stem to the tire.
Costco also makes available TPMS valve stems and related accessories with additional charges.
3. Free Lifetime Maintenance Services
When you buy your tires at Costco and allow their tire techs to install them at the tire center, they will give you free lifetime tire maintenance services. What are the free tire maintenance services that are included here?
Flat repairs
Tire rotations
Lifetime balancing of the tire
Lifetime tire inflation pressure checks
However, wheel alignment is not free at Costco. So, consider the cost of wheel alignment every time you buy a car at Costco because a new tire installed needs its wheels to be aligned with the rest of the wheels.
4. Enables You to Save Money
Costco's 5-year road hazard warranty to all tires that it sells will enable you to save money in the long run. It helps you avoid spending money if the tire fails or its tread is abnormally wearing out.
If the damage is due to manufacturing and material issues, and if you are usually driving as before, Costco will repair or replace the tire at no cost to you.
Costco will readily apply the warrant to your tires as long as you have the original receipt and maintain the standard tire maintenance.
5. Setting Up an Appointment Is Easy
Scheduling an appointment for a tire check or repair is not difficult with Costco. You can call them up or do it online at their official website. Since Costco also sells all kinds of consumer goods at their outlets, you can shop while they are fixing your tires.
Costco Actual Customer Reviews
Reading actual reviews from Costco customers will also help you determine if it's the right store where you can buy your tires. I have included here some positive and some negative reviews so that you can have a more balanced outlook on Costco's tire prices:
Positive Reviews
A customer who bought their Michelin tires at Costco said they got a flat. They asked for an appointment with the Costco outlet where they bought the tire. The Costco tire tech couldn't fix the tire. So, they replaced the tire entirely.
Good Service
This customer thinks that Costco is the best place to buy tires due to Costco's outstanding warranty. This customer says they are not usually writing reviews like these, but they want people to know that Costco Tire Centers provide good service to their customers.
Another customer bought four new Bridgestone Blizzak tires on Costco's online store. The tires were delivered to the local Costco outlet. When they got there to get the tires, the tire tech of Costco was ready to install the tires on their vehicle.
Save Time
There is also a person who goes by the name of J.P. who had experienced good customer service at Costco. They say that they usually go to Costco every week, and they can have their tires rotated anytime while doing their shopping around the warehouse.
Compared to just sitting and waiting around a tire shop while their tires are being fixed, Costco offers a better alternative, they said. This person also said he gave up looking for a better deal than Costco about 15 years ago.
Negative Reviews
One customer had a bad experience buying four Michelin tires at Costco for their Audi Q5. When they went for a tire replacement, the tire tech said they couldn't find the car key. The key is required for a tire replacement.
This reviewer went back to their car dealer, and the dealer showed them the key is inside the car together with the toolbox. They went back to Costco and asked the tire tech how come they didn't find the key when it's there all the time inside the toolbox in the car.
But the counter person at Costco said it is the car owner's responsibility to get the key and have it ready on the passenger's seat. That's only the time they can replace the tires. This customer also found the attitude of the counter person at Costco rude.
Another customer had a bad experience at Costco. They said the tire center has no wheel alignment service. Plus, there are long waits for tire rotation and balancing.
They set appointments two times and were told the service would take around two hours. This customer thinks that is too much hassle for savings that range from $15 – $30 per axle.
Frequently Asked Questions
Here are some questions that are frequently asked with regards to Costco tires and their prices:
Are Tires Cheaper at Costco?
According to a Consumer Reports study, the prices of tires at Costco are not necessarily the cheapest on the market. But their study also shows that the tire prices of Costco are still very competitive. Additionally, their customer satisfaction is also quite high.
How Much Discount Can You Get at Costco?
Costco rolls out discount deals on select tire brands from time to time. The discount can range from $70 to $80. To sweeten these deals, even more, Costco also offers tire installation for only 1 penny per tire. So, you stand to gain additional savings of up to $60.
Is It Good to Buy Costco Tires?
According to a Consumer Report survey, Costco's score on waiting area, selection, and installation time are 'good.' In all other categories, Costco scored 'very good.' If that is an indication of the customer service at Costco, then it must be good to buy tires at Costco.
Should I Buy My tires at Costco?
Costco has out-of-stock tires regularly, but this tire store offers a better warranty than other tire sellers. You can also get the tires that you bought installed on your vehicle for free. So, when you are ready to buy a set of tires, bring along your car so they can install them right away.
Are Costco Tires Lower in Quality?
The popular tires sold at Costco, such as Goodyear, Michelin, BF Goodrich, and others, have the same material, quality, and manufacturing standards as those sold in other tire stores. Costco can afford to sell them at discounted prices because they have lower overhead costs than other tire shops.
Does Costco Match Prices with Other Tire Sellers?
Costco does not match its tire prices with other tire stores. Their tire prices are always competitive. If a buyer is not satisfied with their tire purchase, Costco will gladly accept the return and give the customer a full refund under certain conditions.
Are Costco Tires Cheaper Than Walmart's?
On average, the tire prices of Costco are competitive to the tire prices of Walmart. There are tire models and sizes cheaper at Costco than at Walmart and vice versa. However, Costco included tire installation and maintenance in its tire prices. So, customers can save more.
Conclusion: Costco Tire Prices
According to one customer who bought four Michelin Defender LTX tires at Costco, the price of one tire is around $186.49. An installation fee of $15 per tire is added, and an additional service fee of $2.99.
So, you can get a set of four tires for $817.92. Taxes are not included yet in that amount.
Consumer Reports recently conducted a survey that showed Costco's tire prices are not necessarily the cheapest. However, the survey also found that their customer service rating remains high.
Read next:
Travelstar Tires Review [Are They Good? Who Makes Travelstar Tires?]