In 2004, Dodge launched a limited edition of the Ram Rumble Bee. Is it a good vehicle? In this Dodge Rumble Bee review, I'll list all of its specs and features so you can decide if it is the right truck for you.
The Dodge Ram Rumble Bee is one of the best Dodge Ram trucks ever launched. Described as a beast, it is not like the regular Ram 1500 single cab. It houses a more powerful 5.7L Hemi V8 that produces 345 hp and 375 lb-ft of torque.
Read on to learn more about the Ram Rumble Bee specs, features, and overall performance.
About the Dodge Rumble Bee
The Dodge Ram Rumble Bee is among the best Dodge Ram trucks ever launched. Recognized as a beast, it is not like the regular Ram 1500 single cab. It features a more powerful 5.7L Hemi V8 engine, producing 345 hp and 375 lb-ft of torque.
Initially, there were only 4,613 units made following its release in 2004. Its launching did not only commemorate the 10th anniversary of the new Ram design. It also successfully memorialized the Dodge Coronet Super Bee.
Dodge released 4 x 2 and 4 x 4 configurations of Ram Rumble Bee trucks, featuring a regular cab and short box. Its features include lower body cladding and an upgraded exhaust system that produces an impressive rumble.
Also, it has a stripe on the rear of the box, wheels measuring 20 inches, and a massive hood scoop. It definitely looks like a classic muscle vehicle.
You can get a yellow Ram Rumble Bee truck with a black stripe. But you also have the option to get a black one with yellow tripe. These are the only colors available so that it can keep with its "Bee" concept.
Its colors and design are an indication of how fast and powerful it is. In fact, truck enthusiasts say that they wouldn't be surprised if another Rumble Bee version will be launched in the future.
This truck was only produced from 2004 to 2005. There were only 8,700 units manufactured.
How Many Dodge Rumble Bee Pickup Trucks Were Manufactured?
There were not many Dodge Rumble Bee trucks produced as it was intended to be a limited edition. Only a total of 8,700 units were released.
This allows the Rumble Bee to be recognized as a rare unit. In fact, if you see one today on the streets, you would easily identify it. Not to mention that it is truly a head-turner.
Will There Be a 2022 Dodge Barracuda?
Dodge Ram Rumble Bee Specs
Let's talk about the specs of the Ram Rumble Bee:
1. Engine
Its engine is a 5.7L 8 cylinder engine, and its transmission is automatic. The exterior is in solar yellow color with a dark slate gray interior. Dodge has also released units wherein the exterior's dominant color is black.
2. Drivetrain
In terms of the drivetrain, the Rumble Bee comes in a 2- and 4-wheel drive. The truck bed length is 75.9 inches at the floor level. At the same time, the truck bed width measures 70.2 inches at the floor level.
3. Horsepower
As for the horsepower, it features 345 hp at 5,400 RPM. It features 375 lb-ft of torque at 4,200 RPM.
4. Other Features
This truck features keyless entry locks, heated mirrors, and a removable tailgate. It offers cruise control convenience.
Dodge Ram Rumble Bee Review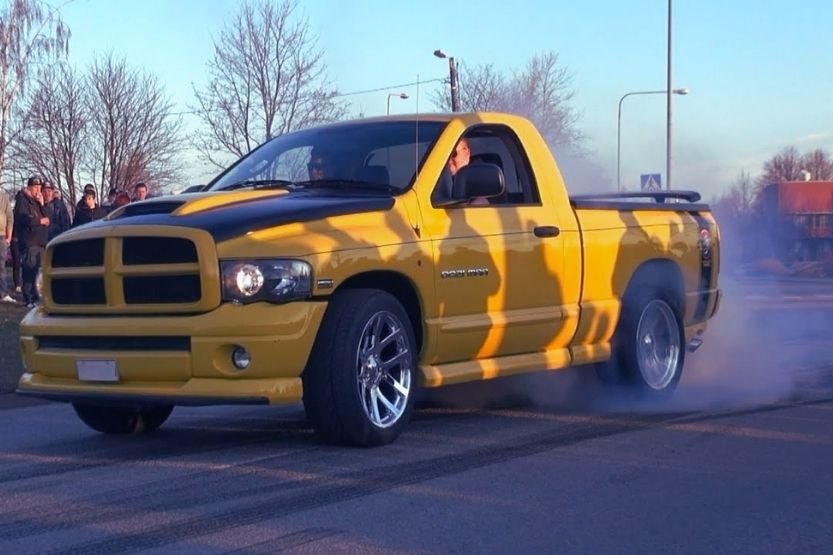 Let me provide you with a Dodge Ram Rumble Bee review based on the following:
Engine
Body
Towing and Hauling Capacity
Fuel Economy
Interior
Exterior
1. Engine
The Ram Rumble Bee features a Hemi engine. It is the standard 5.7L Hemispherical head V8 engine used even in other Dodge Ram pickup trucks.
Despite being a limited edition, it doesn't feature a special engine. It also doesn't have any additional performance tuning. This means that it doesn't set it apart from other Dodge Ram trucks in terms of engine.
The Hemi V8 engine of the Rumble Bee produces 345 hp and 375 lb-ft of torque. Its engine features a cast-iron block fitted with aluminum heads. The bore measures 3.92 inches, while the stroke measures 3.58 inches. This Hemi 5.37L V8 is a 90-degree pushrod-style engine.
2. Body
The Dodge Rumble Bee is a short bed single cab pickup truck. Its body either comes in yellow or black, matching the Rumble Bee emblems. It also features a color-keyed front air valance, rear air dam, and side skirts, making this truck distinct from the rest.
As for the seats, they are slate gray cloth or leather.
3. Towing and Hauling Capacity
The Rumble Bee's towing and hauling capacity is basically the same as the other dodge Ram Hemi pickup trucks. These trucks feature either Class III or Class IV hitch mounts. They can tow roughly 8,500 lbs. As for its payload capacity, it is roughly 1,500 lbs.
4. Fuel Economy
While I have many great things to say about the Rumble Bee, there's a downside to it as well. One of which is its fuel economy. But then, fuel efficiency is most of the time compromised when maximizing the power of a pickup truck.
The Rumble Bee features an automatic transmission. It can only average 17 mpg on the highway and 12 mpg in the city. In terms of rear-end gear ratio, it is 3.92:1. It is an economy gear ratio related to boosting fuel economy numbers.
Unfortunately, the truck's size, engine, and curb weight affect fuel economy despite gear tuning.
However, some Rumble Bee drivers also say that proper handling of this truck also results in fuel efficiency. These include the way you step on the gas and brake pedals and how much weight you allow your truck to carry or tow. Also, if it undergoes regular maintenance, you can prevent your truck from consuming too much gas.
5. Interior
The truck's Special Luxury Touring (SLT) bucket seat features a folded-down center seat that you can convert into a console. It features a slate gray/yellow dashboard and door panel inserts. The interior also consists of the following:
All power options
White-faced gauges
Premium door panels
A serialized number plate.
It also has sporty special gloss yellow inserts featuring bee decals. It features cloth seats. However, you have the option to upgrade it to leather seats.
6. Exterior
Being a limited edition pickup truck, it was built only on the two-door short-bed platform. It is similar to the Super Bee edition, such as the stripe Rumble Bee emblem, a hood scoop, and lower body cladding.
This pickup truck is easily recognizable with its color, in either a yellow or black finish. The one in black clearcoat finish features solar yellow trim. At the same time, the one in yellow finish features black trim. They feature a color-keyed rear air dam, side skirts, and front air valance.
Again, what does Dodge Rumble Bee offer? The Dodge Rumble Bee is unlike the regular Ram 1500 single cab. It is equipped with a 5.7L Hemi V8 capable of producing 345 hp and 375 lb-ft of torque. Thus, it is considered the beast and one of the best Dodge Ram trucks existing today.
What Is Special about the Dodge Ram Rumble Bee?
Modern Classic Truck
The fact that it is a modern classic truck already makes it all worth the hype. It is one of those vehicles that provide the rugged basics of trucks. At the same time, it also provides you with a smooth driving experience.
If you want to stand out on the road, this is the truck for you. It will not only make you look tough and solid. But it will also allow you to drive that way too.
Impressive Towing Capacity, Power, and Durability
Its features are impressive, including its towing capacity, power, and durability. If you see Rumble Bee trucks on the streets until now, it is because of their durability. It is expected to be a useful truck for many years.
The Dodge Ram Rumble Bee is a special vehicle in so many ways. You can use it to carry heavy loads, to haul, and to tow like any other. This is because, with the Rumble Bee, you can do all these with style.
Design
In terms of its design, it features a special center dash bezel that spots a gloss yellow. This is along with a dash plaque indicating a limited edition number.
The Ram 1500 Rumble Bee Concept
In 2013, Ram revealed its 1500 Rumble Bee Concept at Michigan's Woodward Dream Cruise classic car event. The vehicle was in a yellow and black finish, and, as expected, it was dripping with street style.
Engine
The concept vehicle was powered with a 5.7L Hemi engine. It could produce 395 hp and 407 lb-ft of torque. Also, it was integrated with a TorqueFlite 8-speed automatic transmission. The torque could then be transferred through 4.10 gears.
Mopar Cat-black Dual Exhaust System
Other features include a Mopar cat-black dual exhaust system and a Mopar cold air intake system.
In essence, this concept vehicle was introduced to commemorate the 10th anniversary of the Rumble Bee. Definitely, it was not like any ordinary Ram 1500 R/T.
If you saw this 2013 Ram 1500 R/T, you would surely appreciate the Drone Yellow pearlescent overtone matte finish paint on it. It had that accenting gloss black of the grille, dual exhaust tailpipes, fuel door, badging, and hood vents. Stripes were gliding from the front to the rear and fading into a honeycomb pattern.
Five-spoke gloss black Vellano VRH wheels measuring 24 inches replaced the standard wheels. Previously, the wheels measured 22 inches only.
Handling Performance
There was also an improvement in terms of handling performance. Upgrades to the suspension and shocks were done. A two-inch King Suspension drop, as well as reservoir shocks at each corner, were integrated.
Interior
As for its interior, it consisted of Drone Yellow and black leather sport mesh seats. It had two-tone yellow and light gray stitching. Also, it had a milled aluminum commemorative badge that read "Rumble Bee 10 Anniversary."
A unique honeycomb pattern was incorporated into the door trim and dash. The shifter knob featured a backlit epoxy resin-encased bee. There were several Ram logos and Rumble Bee stitching everywhere. Obviously, it isn't any ordinary 1500 R/T.
Ram Pickup Trucks
Ram pickup trucks used to be marketed as Dodge Ram pickup trucks until 2010. They are full-size pickup trucks built by Stellantis North America. The company was formerly known as Chrysler Group LLC and FCA US LLC.
Formerly, Ram formed part of the Dodge line of light trucks. It was in 1981 when the name Ram was initially used for Dodge trucks. The Dodge D pickup truck series and the Dodge B van series were about to retire and rebadge.
People recognized Ram trucks for their style and performance. In fact, the Motor Trend magazine has named it Truck of the Year 8 times. From 1994 to 2021, Ram has consistently been recognized as one of the best pickup trucks worldwide, if not the best.
Conclusion – Dodge Rumble Bee Specs and Review
The Dodge Ram Rumble Bee is one of the best Dodge Ram trucks ever launched. Described as a beast, it is not like the regular Ram 1500 single cab. It houses a more powerful 5.7L Hemi V8 that produces 345 hp and 375 lb-ft of torque.
Its power may not be distinct from other Dodge Ram pickup trucks. This is because its Hemi engine is the same as the engine installed in other Dodge Ram models. Nonetheless, its style and appearance are like no other. It also comes in a limited edition, making this particular model a rare one.
If you're considering getting a Dodge Rumble Bee, go ahead and get yourself one. It definitely is a great buy. You can use it for family trips, vacations with friends, and even at work. It is powerful enough to haul and tow work equipment. At the same time, it is powerful enough for trips with family and friends.
The Dodge Ram Rumble Bee is not just any other ordinary pickup truck. It is a head-turner. Both the interior and exterior designs are unique from other Dodge Ram trucks. It is impressive how you can drive a truck with style and great performance.
Related reading:
Who Makes Ram Trucks? Where Are Ram Trucks Made?
Small Dodge Trucks – 5 Types of Small
Dodge Ram Weight – 1500, 2500, 3500 Curb Weight